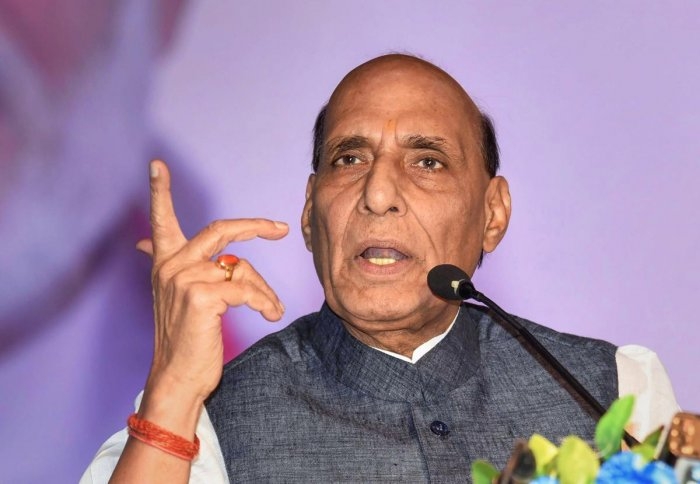 DEFENCE Minister Rajnath Singh on Friday directed the top military brass to ensure that India's adversaries do not get any opportunity to push their "evil design" by taking advantage of the country's focus on fighting the coronavirus pandemic, officials said.
Reviewing India's military preparedness at a high-level meeting, he also asked the Armed Forces to avoid wasteful expenditure and make sure judicious utilisation of funds in view of the downturn in the economy caused by the pandemic, they said.
The top Army brass apprised Singh about the situation along the Line of Control in Jammu and Kashmir as well as along the nearly-3,500 KM frontier with China.
Navy Chief Admiral Karambir Singh briefed Singh about the overall situation in the Indian Ocean region where China has been increasingly expanding its military influence by deploying warships and submarines.
A major focus of the deliberations was on situation in Jammu and Kashmir, said an official.
Notwithstanding the coronavirus pandemic in the region, Fund, Franklin India Dynamic Accrual Fund, Franklin India Credit Risk Fund, Franklin India Short Term Income Plan, Franklin India Ultra Short Bond Fund and Franklin India Income Opportunities Fund. The six debt schemes had assets under management of over Rs 25,000 crore.
"There has been a dramatic and sustained fall in liquidity in certain segments of the corporate bonds market on account of the COVID-19 crisis and the resultant lockdown of the Indian economy which was necessary to address the same. At the same time, mutual funds, especially in the fixed income segment, are facing continuous and heightened redemptions," Franklin Templeton MF said in a late evening statement on Thursday.
The statement further noted that "an event has occurred, which requires these schemes to be wound up and that this is the only viable option to preserve value for unit holders and to enable an orderly and equitable exit for all investors in these unprecedented circumstances".
Market participants are concerned that the current situation may also impact other debt schemes.
Markets regulator Securities and Exchange Board of India (Sebi) on Thursday eased the valuation policies for debt mutual funds and asked them not to term a paper as default if the delay in payment of interest or extension in maturity is mainly due to coronavirus pandemic related lockdown.