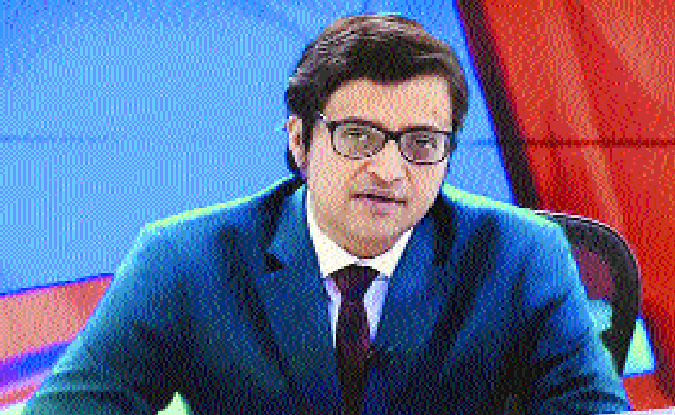 THE Supreme Court on Friday granted 3-week protection from any coercive action to Republic TV editor-in-chief Arnab Goswami on FIRs against him for alleged defamatory statements against interim Congress Chief Sonia Gandhi he made in the news shows on the recent Palghar mob-lynching of three persons including two sadhus in Maharashtra.
A bench comprising Justices D Y Chandrachud and M R Shah, in a hearing conducted through video conferencing, took note of the submissions of senior advocate Mukul Rohatgi and said that Goswami "shall be protected against any coercive steps" for the telecast of the alleged defamatory news programmes aired on the news channels. It also said that Goswami can file anticipatory bail plea in connection with the FIRs after three weeks and he should cooperate with the investigating agency.
The top court allowed Goswami to amend his plea for impleading the complainants against him as parties in the apex court and also permitted him to seek clubbing of FIRs lodged against him.
The bench, while staying investigation in different FIRs lodged in various States also transferred the defamation case lodged in Nagpur to Mumbai and clubbed it with the FIR lodged by Goswami in connection with attack on him and his wife allegedly by some Congress workers. The top court also issued notices to the Centre and States including Maharashtra, Rajasthan, Chhattisgarh, Madhya Pradesh, J&K and Telangana on the plea of Goswami.
The top court also clarified that no investigations will be carried out in any fresh FIRs lodged against Goswami arising out the news show related to Palghar incident.
Goswami said in his plea that the FIRs which have been already registered, and the ones which are anticipated, are in relation to the broadcasts aired on Republic TV on April 16, and R. Bharat on April 21, which were in connection with the comments given by a member of Congress in relation to India's COVID-19 testing measures and the unfortunate lynching of three individuals (including 2 sadhus/priests) in Palghar on April 16.
During the hearing, Rohatgi, appearing for Goswami, told the bench that Goswami and his channel had brought out the Palgarh lynching incident and on his shows, he was raising questioning over what the police was doing in the matter.
He said all the FIRs and complaints have been filed by Congress workers and they are "principally based" on the alleged defamation of the Congress chief.
Grateful to SC for upholding constitutional right to report, broadcast: Arnab Goswami
REPUBLIC TV editor-in-chief Arnab Goswami on Friday said that he is "deeply grateful" to the Supreme Court for upholding his constitutional right to report and broadcast, and for granting him protection from arrest in connection with several FIRs registered against him for allegedly defaming interim Congress President Sonia Gandhi.
"I am delighted to hear that the Supreme Court has given me protection from arrest. I am deeply grateful to the Supreme Court for also upholding my constitutional right to report and broadcast and for defending my freedom of expression and my freedom as a journalist," Goswami said in a video message.
Goswami alleged that Congress was trying to intimidate him and his network from reporting on the Palghar incident by filing hundreds of cases in Congress-ruled states.
"As you all know, over 150 FIRs have been filed by the Congress party in a clear attempt to intimidate me and my network from reporting, especially on the Palgarh incident. I am very grateful that the Supreme Court has not allowed Congress to harass me and my network by filing hundreds of cases especially in states which are congress ruled," Goswami said.
"I am very grateful that the Supreme Court, taking view of the violent attack on me by Congress workers, has asked the Mumbai Police Commissioner to look into the security of my physical establishment the Republic Network Studio and me personally," he said.
The senior journalist said that Congress leaders have been intimidating and threatening him with physical violence and added that he is grateful to the top court for taking note of the violent assault on him and his wife Samyabrata Ray.
Goswami and his wife were attacked by two bike-borne assailants early on April 23.