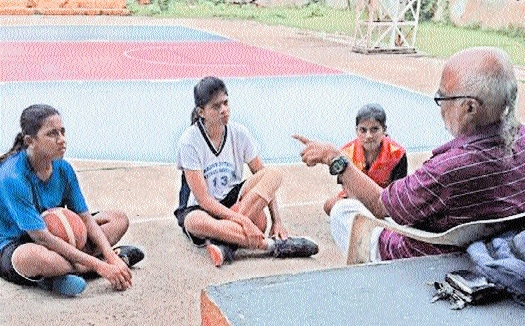 all is in the mind:
Bhau Kane (also inset), who has been an athletics coach par excellence, an educationist and a mental trainer for forty years, giving some tips to cagers Shreya Dandekar and Mugdha Amraotkar few seasons ago
.
By Anupam Soni :
THE world is going through some tough times and all inhabitants must respect and obey certain rules if they are to survive this onslaught of nature, feels city's noted athletics coach and mental trainer Bhau Kane. The deadly novel coronavirus has literally brought the earth to a standstill killing over 65,000 and affecting over 12 lakh in span of a few weeks. The virus has forced lockdown in many countries including India. "My advice to sportspersons is to continue with the conditioning and maintaining fitness. I have instructed all my students to practise at home and follow the lockdown seriously. For the general public, I request them to stay at home.
They are getting time to relax and should make full use of it. This is time to pray and save yourself. The government work is very appreciable. One should respect Lakshman Rekha and should not venture out unnecessarily. With patience and prayers the world will see through it," said Kane, who has 40 years experience in education, mental training and coaching, while talking to 'The Hitavada'. Kane has been instrumental in sculpting many top athletes. From present day athletes like Sayali Waghmare, Kane, who has been bestowed upon with the prestigious Dadoji Konddev award by the Government of Maharashtra, has nurtured the likes of Madhuri Gurnule, Charulata Naigaonkar-Behere, Aparna, Manoj Balpande, and Yogesh Thakare.
His talks on mental toughness has benefited many sportspersons from varied fields including cagers Mugdha Amraotkar and Shreya Dandekar, shuttlers Vaishnavi Bhale, Rashi Lambe, Mugdha Agrey and Malvika Bansod and even reputed coaches like Kiran Makode. "This is not a common virus and it is very surprising but pleasant to know that even though we don't have best of medical facilities as compared to the western world, we are managing it very well. We must take all precautions because if it spreads and take a bigger proportion, then it will be very difficult for us to control it. "We must cooperate and in fact that should be our responsibility. If everybody is firm, we will definitely win. We are in the third week of outbreak and it has not spread much. I am confident that this bad time will be over with people taking all the precautions. "We are educated but some are behaving like uneducated people...when the call is not to go out and to maintain social distancing, they are ignoring it.
Also, we must salute the medical and health workers including the sweeper and garbage men. Even our Prime Minister is saluting them...we must play our part...at least in ensuring 100 per cent lock down," added Kane. Kane wants his wards to remain humble in victory. "Vijayi vinayi bhavet...the sportspersons must be humble in victory. But what we see nowadays is after winning the players show aggressive emotions and that is not good. People remember good and simple sportspersons for a much larger time. Good students are also a teacher's delight as the teacher enjoys teaching more," Kane, who gets a lot of calls regularly from his old students, said.
An expert in Ramayana, Kane, who has an ashram near river Narmada some 300 kms from Nagpur, cites some verses that helps in tough times. "This is natural disaster and the first thing is to save ourselves. 'Ram Raksha Strot' helps us from all micro organisms that can harm us. There are small creatures that change their identities and come to harm us. Prayer is a powerful tool to protect us."