Palm Sunday: Pope celebrates without public in St. Peter's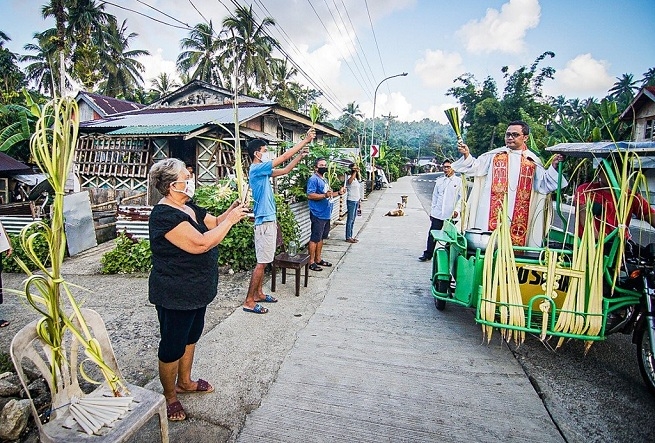 A Roman Catholic priest riding on a tricycle and wearing a face mask blesses the faithfuls holding coconut leaves during Palm Sunday event in Borongan town, Eastern Samar province, Philippines on Sunday, as part of the Easter observance. (AFP)
VATICAN CITY :
POPE Francis celebrated Palm Sunday Mass without the public because of the coronavirus pandemic, which he said should focus people's attention on what's most important, despite heavy hearts — using one's life to serve others. Looking pensive and sounding subdued, Francis led the first of several solemn Holy Week ceremonies that will shut out rank-and-file faithful from attending, as Italy's rigid lockdown measures forbid public gatherings. Normally, tens of thousands of Romans, tourists and pilgrims, clutching olive tree branches or palm fronds would have flocked to an outdoor Mass led by the pontiff.
Instead, Francis celebrated Mass inside St. Peter's Basilica, which seemed even more cavernous than usual because it was so empty. Besides his aides, a few invited prelates, nuns and laypeople were present, sitting solo in the first pews and staggered far apart to reduce the risks of contagion.
A male choir, also practicising social distancing, sang hymns, accompanied by an organist. Wearing red robes to symbolise the blood shed by Jesus in the hours of his crucifix, Francis blessed braided palms. "Today, in the tragedy of a pandemic, in the face of the many false securities that have now crumbled, in the face of so many hopes betrayed, in the sense of abandonment that weighs upon our hearts, Jesus says to each one of us: 'Courage, open your heart to my love,'" Francis said.