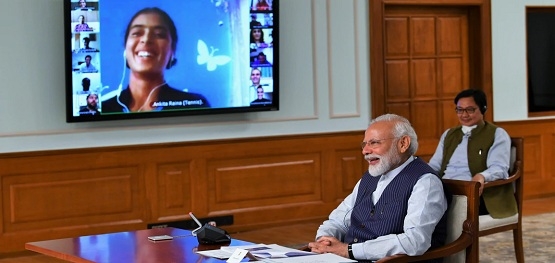 A CHAMPION'S true test lies in the defence one puts up during a probing phase, against a rampaging rival firing on all cylinders. The most critical factor of such fights is not lowering the guard in the face on an onslaught. This was the precise message delivered by Prime Minister Mr. Narendra Modi during his video conference with India's sportspersons while discussing ways to manage the period after the lockdown is lifted on April 14.
The fight against coronavirus is in a crucial phase with the 21-day lockdown effectively holding India in good stead. Yet, a sudden spurt in cases, primarily due to the recklessness of the Tablighi Jamaat congregation at Nizamuddin Markaz, now makes it imperative for India to pad up again and march on with a champion's mindset. The Prime Minister's one-hour video call with 40-odd elite sportspersons seeking their support in spreading awareness about the dangers of Covid-19 was another laudable initiative to build a team spirit among the countrymen.
Mr. Modi acknowledged the sportspersons' contribution as an inspiration in the fight against coronavirus. His call of putting up a united front as Team India found resonance in all the participants, which underscores the communication aspect of leadership that is needed to rally one's own forces. It not only spurred the stars in raising the spirits of the countrymen but also reaffirmed the belief in not letting the guard down, as acknowledged by the biggest sporting icon of India, Sachin Tendulkar. Sportspersons play a major role in shaping people's thinking. Kapil Dev's call to his heroes of 1983 World Cup triumph is still regarded as the cornerstone for upsetting Goliaths.
Indian cricket team's stupendous effort to defend a paltry 125-run score against Pakistan at Sharjah in 1985 is still regarded as the victory of self-belief, injected by a passionate leader. PV Sindhu's maiden World Championship title last year is considered a huge milestone for India as it was the product of an unflinching desire to climb atop all previous heartbreaks to touch glory.
History of Indian sports is replete with such tales of guts and gumption. A word from such stars to their fans holds the power of bringing about a seachange in attitude. Mr. Modi was only tapping the latent potential of that word to defeat coronavirus. On their part sportspersons in India have stood up to the occasion in a magnificent manner. With healthy donations for the contingency fund to fight Covid-19, they have set an example of humanity towering over all other things. Their efforts will go a long way in creating a positive atmosphere in the country as it passes through a dangerous period. It is a battle against a mighty opponent and it has to be won as Team India.