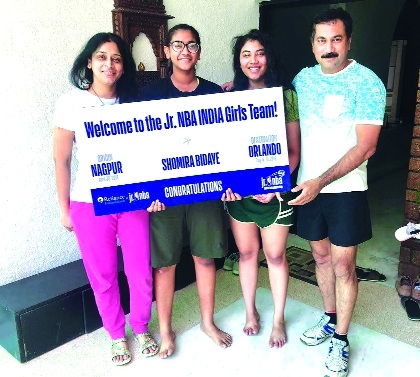 (Above) Shomira Bidaye poses along with family members after receiving a call for Jr NBA Global championships to be held in Orlando. (Below) Shomira with parents Dr Shivani and Dr Shashank.
By Mahesh S Kale :
Little Shomira Bidaye wanted to tonk the cricket ball all over the park. But as life would have it, she landed in dunking the ball into the 12-foot or so high basket. Cricket's loss was basketball's gain. It was because of time constraints to the parents and not love for the game, that made Shomira Bidaye an acclaimed basketball player. Had her parents Dr Shivani Bidaye and Dr Shashank Bidaye not insisted Shomira to play basketball for "just a year", today she might have been playing cricket for Vidarbha.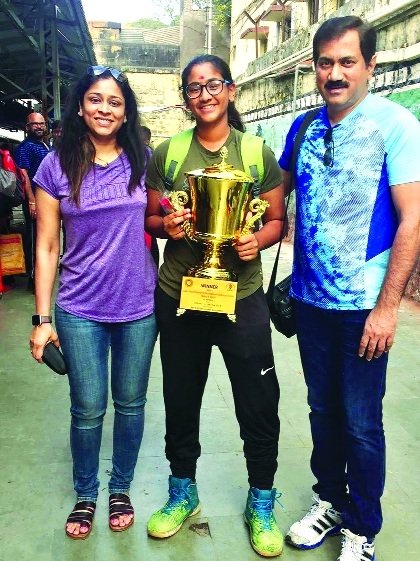 That cajoling and coaxing and 'forcing' her to play basketball just because they did not have time from their busy schedule to drop her to cricket ground proved a career changing decision as Shomira made it to the Junior NBA India Girls' team, the top most achievement so far in her career. Since her childhood Shomira, who also captained Maharashtra U-13 team, had an athlete's body and was always inclined towards sports. "If you look at her physique, she was always an athlete and was always more inclined towards sports. When Shomira was six years old she wanted to play cricket," said Dr Shivani an ophthalmologist while talking to 'The Hitavada'.
"Initially we inquired about cricket clubs in Nagpur. Everything was sorted out but the plan didn't work as I was working and I didn't have time to drop and pick her up from cricket practice. So my husband and I decided to enroll her at Shivaji Nagar Gymkhana (SNG) Basketball Academy," Shivani recalled. "We chose SNG because it was close to from our place and even our watchman would have dropped and picked her up," added Dr Shivani. Shomira's father Dr Shashank said they had convinced Shomira to play basketball for a year and then later they would enroll her for cricket. "Somehow we convinced Shomira to play basketball for a year and then promised her that we shall be arranging some van or auto to pick and drop her from cricket club," remembered Dr Shashank.
"But after spending three months on basketball court, Shomira never talked about cricket. We were also shocked to see Shomira being so engrossed in basketball. That was Shomira's beginning in basketball," added Dr Shashank. To keep her in shape, Shomira's mother changed her diet. "We slightly modified her diet to make sure she kept her weight in check. Making small changes and adjustment is something which any parent would do," said Dr Shivani. "Also as parents we try to get her the best possible sports wear and equipment," Dr Shivani said. Bidayes want their daughter to be in best shape and health. "For better eyesight we recently got her those specially designed goggles from US as Shomira was not comfortable with lenses and spectacles as they would fall while playing," Shivani added. Shomira's father said even her school teachers were very supportive, as she hardly gave any exam during the academic year due to her sports commitments.
"Despite poor attendance and grade, Shomira's school teachers were very supportive as they arranged exams for her at a convenient date and promoted to higher class," said Dr Shashank. The happiest moment for Bidayes was when Shomira was picked in Junior NBA India Girls' team. "Obviously it was when she was selected in the Junior NBA India Girls' team. We were over the moon. The second time was when she led the Under-13 Maharashtra team that won the National Championship in 2018 in Kangra, Himachal Pradesh after 14 long years," concluded Dr Shashank.