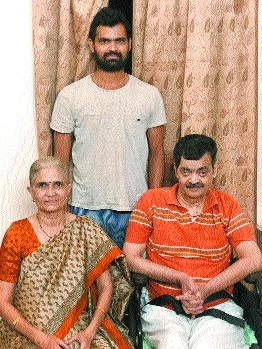 Aadtiya Sarvate with parents Anushree and Anand.
By Anupam Soni :
NOT age but experiences in life and understanding of small things make you a mature and responsible person. Some get those experiences sooner than others in life. Vidarbha's India 'A' all-rounder Aaditya Sarvate, who was an important cog in the wheel of his team that spun back to back to Ranji Trophy and Iran Cup triumphs, is one person whose early encounters with some tragic moments in life acted as catalyst in his maturing early.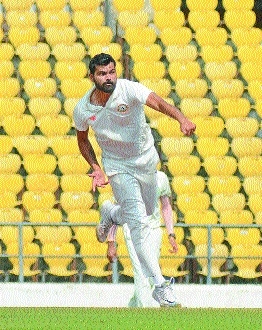 The responsibility and maturity reflects in his game too. The bowling all-rounder, a genuine wicket-taker, stops flow of runs when the wicket is not assisting him and is never seen throwing away his wicket while batting. "As a young child Aaditya was a bit annoying and restless though not irritating. But his father's accident when he was not even four years of age completely changed the little boy. He matured too soon," recalled his mother Anushree Anand Sarvate while in conversation with 'The Hitavada'. The accident happened in 1993 and since then his father is bed-ridden. "He could see that I was taking care of my husband and was not able to give Aaditya much time. In fact, all the family members were busy taking care of his father (Anand) as that was need of the hour. But he showed maturity beyond his age. "Aaditya is a very caring person. And he has been such from that young age.
His father was attended by physiotherapist on a regular basis. One fine day the physio asked me to learn all these things and to do it myself at home as he wanted to discontinue. He taught me the basics and left. On my first day when I was trying to help Anand walk, Aaditya, who was in seventh standard then, picked up a chair and started following us.
Only three of us were there and nobody had asked him to do that. His concern was if by chance his father fell down, at least he would be able to sit and be comfortable. His impromptu action was a very touching moment for me," said Anushree getting nostalgic. "Nothing much has changed since then. Even now he takes care of his father. During this lockdown period no maid is coming and I am busy with household chores. He has taken total responsibility of his father.
If he is in the house, I don't have to look at his father as he manages everything on his own. Anand does not speak and gestures with sign languages that only we understand. The father-son duo are very comfortable in each other's company. They 'discuss' cricket. Very recently, both of them saw the entire Ranji Trophy match on iPad," said Anushree who took voluntary retirement from her banking job recently. The family was "stunned" when Aaditya removed India Test specialist Cheteshwar Pujara very cheaply in both the innings of the Ranji Trophy final at VCA Stadium in Jamtha when Vidarbha did an encore. "We were all stunned. Cheteshwar ko isne do baar out kiya...aise kaise ho gaya (he got him twice, how did it happen)," said Anushree erupting in a laughter. Cricket was Aaditya's only love and her mother was always hopeful of his son making a name in the sport.
"I was confident that he would play at least Ranji Trophy. Right from school level when he used to play in Mundle Trophy and other tournaments, his performance was always good. He was only interested in cricket and never followed any other sports. Many times we asked to him to go to swimming but he never showed interest. "He would be there at the Mujumdar Cricket Academy ground in Vasant Nagar (the family used to stay in Vasant Nagar only) by 5 in the morning. I just had to wake him up and rest he would do on his own. Playing at home, he broke several earthen flower pots (kundis) that forced me to buy some cement ones," Anushree remembered. Apart from cricketing skills, Aaditya was good at singing. "He also a had a good voice and used to sing during Ganesh utsav and other competitions among colony members. He would win prizes every year.
I asked him to attend some singing classes but he was focused on cricket only and told me clearly that he wants to play only cricket...'baki cha rahu de', he used to say," said his mother. Aaditya bagged his first trophy in his first ever away tournament. "When he was in 6th or 7th, he went to Buldana to participate in a cricket tournament. Sunil Mujumdar told me that the team would return in 1-2 days. But the team kept on winning and eventually finished runners-up. Aaditya returned with his first man of the match trophy." Anushree received whole-hearted family support and that helped in taking care of Anand and Aaditya. "Well, I did not have to make any sacrifices as such.
Actually everything fell into its place automatically. I had great support from the family. My in-laws and my parents helped us a lot. Whatever was done was a combined effort not that just I did it. Also Anand is a very very cooperative patient. Such patients get fed up easily and vent anger on family members but he has never ever done that," Anushree said in praise of family members. The mother wants to keep her fingers crossed on the future of the left-arm spinner and right-handed useful lower order batsman. "He has already played for India A. It is just wait an watch for all of us on how far does he go from here on," Anushree concluded.