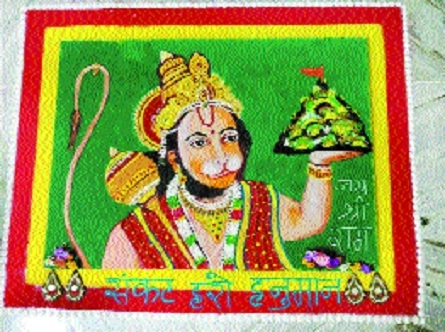 5X5 feet-long rangoli of Lord Hanuman drawn by Dr Sunita Sharma at Jagat Plaza on the eve of Hanuman Jayanti.
By Rajendra Diwe :
BAAL samai ravi bhakshi liyo tab, teenahu loka bhayo andhiyaro| Taahi so traas bhayo jag ko, yah sankat kaahu so jaat na taaro| Dewan aani kari bintee tab, chaadhi diyo ravi kasht niwaaro|| Ko nahin jaanat hai jag mein kapi sankat mochan naam tihaaro|| This is the first verse of Sankat Mochan Hanuman Ashtakam which narrates the glory of Lord Hanuman as: "When a child, you gulped the Sun, the three worlds went dark; The world thus got into trouble, A crisis as such none could dispel; The gods then prayed to you, Sparing the sun, you eased their woe; Your title as the Danger Dispeller O Kapi, Who in the world doesn't know."
Sankat Mochan Hanuman Ashtakam is the very famous devotional bhajan written by Goswami Tulsidas, a great devotee of Lord Hanuman. Ashtak, or Astakam, literally means eight and the prayer contains eight verses in praise of Lord Hanuman and the bhajan ends with a Doha. In most Lord Hanumanji Temples, this Sankatmochan Hanuman ashtak is chanted after the Hanuman Chalisa. This mantra not only benefits the people who utter it, but also provides benefits to his or her family members. This mantra helps in mental relaxation and brings about a sense of peace in one's family. Chanting this mantra regularly helps in improvement of health conditions for adults and kids.
Hanuman Jayanti, the birthday of Lord Hanuman is celebrated across the country with religious fervour on Chaitra Pournima that is 15th day Shukla Paksha of Chaitra. The recitation of Hanuman Ashtakam is the very important procedure in Hanuman Jayanti celebration. Throughout the country, Lord Hanuman, devotees and worshipers have different names for the God, such as Maroti, Bajrangabali, Pavanasuta, Pawanputra, Pavankumar, Sankat Mochan, Mahavira, Maruti Nandan and many more. He is a son of the God of wind, Pawan.
He can fly and change his size, can lift mountains and can also keep the evils away. Lord Hanuman is considered as a combination of powerful and courageous, while also being humble. According to mythology, Lord Hanuman was born to serve Lord Ram. He served Lord Rama, and aided him in helping getting his wife back from the evil Raavan in the epic Ramayana. To show Lord Rama how faithful he is, Lord Hanuman pulled the skin in his chest apart to show everyone a picture of Lord Rama and Goddess Sita, saying that 'nothing which does not have Lord Rama in it is of any worth'. Hence, he has a picture of the Lord over his heart. There is another legend about Lord Hanuman. According to the legend, Lord Hanuman saw Goddess Sita, Lord Rama's wife, applying sindoor (red coloured powder worn by married women) on her forehead.
When asked, Goddess Sita replied by saying that she did so in an effort to ensure Ram's immortality. Being such a faithful devotee himself, Lord Hanuman smeared his entire body with the sindoor. This is why, in temples, the idol of Lord Hanuman is made of orange-red sindoor, which worshipers put on their forehead for good luck. The Gada (a weapon) Lord Hanuman carries in his hand is to fight against evil. In his other hand, he carries a mountain, which he got to save Lord Lakshmana, Lord Rama's brother. Both of these symbolise his strength and humility.
Customs and Rituals across the country Most rituals start around sunrise, as the Lord is believed to have been born then. Some people observe fast and meditate, while other devotees chant the Hanuman Chalisa, a special prayer which says how Lord Hanuman fights against evil. Chanting this prayer is said to keep spirits away and keep the devotee safe. Aarti is also done, and as prasad, Lord Hanuman's favourite sweet, boondi is offered as bhog to the idol. Core rituals and festivity The birthday of Lord Hanuman is generally on a full moon day that is Chaitra Purnima.
According to the scripture the basic way of honoring is through idol worship in most parts of the country. n Offering mustard oil or flowers n Putting some sindoor on the idol with the chanting of Om Shree Ramdut Hanumate Namah n Lightning of incense stick and chanting the above-mentioned spell n Reciting of the Hanuman Chalisa while worshipping is a must n Lastly offering sweets to idol. However, different states in the country celebrate this festival on different days. n In Maharashtra, it is celebrated on the Purnima in the Hindu Lunar month of Chaitra. n In Tamil Nadu and Kerala, it is observed on the New Moon Day in the month of Margazhi, which usually falls in the months of December and January. n In Andhra Pradesh and Telangana, the festival lasts for around 41 days.
Celebrations across the country Devotees in all parts of the nation actively take part in this festival. People in most parts of the Uttar Pradesh visit temples and offer prayers. There's heavy rush in temples on this day. Disciples wait in long queues to enter the shrine and serve their offerings to Lord Hanuman. However, in South India Andhra Pradesh, and Telangana devotees serve Deeksha 41 days before. This lasts till the day of the Jayanti. Special pooja is conducted during this period in every household. In Karnataka, the day is observed on Shukla Paksha Trayodashi that is the month of Bajrangbali. In Gujarat, the devotees serve 4,000 kg of ladoo as a tribute to the god. In Varanasi, people embark on a Shobhayatra to commemorate this auspicious day.
Muhurat for Hanuman Jayanti
Hanuman Jayanti Tithi - Wednesday, April 8 2020
Purnima Tithi Begins - 12:00 (7 April 2020)
Purnima Tithi Ends - 08:03 (8 April 2020)