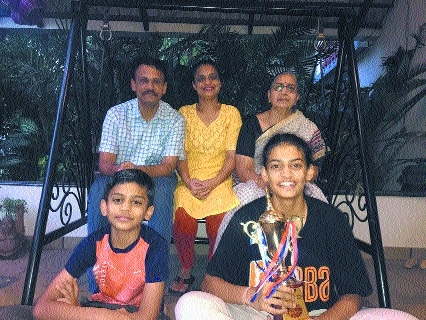 By Mahesh S Kale :
BORN in a middle class family Siya Deodhar was an ordinary girl with extraordinary talent. From her childhood the frisky and perky-natured girl was always inclined towards sports. Her parents Shreesh Deodhar and Swati Deodhar recall Siya's inclination towards sports. "From the very beginning Siya was always fascinated with games and she always had a sporting attitude. She was someone who would quickly grasp details of a game without much effort," Siya's father Shreesh told 'The Hitavada'.
Siya Deodhar scoring a basket during her NBA Acadmey match in Mumbai.
"Being a karate black belt myself and after having trained several students, as a coach and father of Siya I could easily tell that she always had a sportsperson within her," added Shreesh. "We once had enrolled Siya for swimming at Baljagat and I clearly remember that she not only learned swimming in a short period of time but after two months or so she also became the fastest swimmer of her batch," said Swati. For several reasons Shreesh didn't want Siya to play individual or one to one sport.
"I was always in favour of Siya playing a team sports because as a child I wanted Siya to learn the art of adjustments and adaptation. Also playing in a team would have taught her things like respecting your team-mate, friendship, leadership, resilience, overcoming adversities and team work," Shreesh said. "So we enrolled her to basketball at Shivaji Nagar Gymkhana (SNG) and after that it was a smooth sailing for Siya as she not only liked the game but also became obsessed with it," added Shreesh. When asked about their proudest or best moment as a parent Swati said, "The best and proudest moment is yet to come. There are several moments which we all cherish but I think the best is yet to come.
Probably Siya donning that India T-shirt would be our and everyone's proudest moment. "Siya had a good chance of getting selected in the Under-17 India team but due to coronavirus threat the FIBA Asia Cup was cancelled," added Swati. When asked about sacrifices or adjustments as parents they had to make both Shreesh and Swati proudly said, "by God's grace we didn't have to make a single sacrifice as such, rather we would say that it was all Siya's effort and abilities which took her this far. Siya did all the preparation herself including arrangement of transportation." "Fortunately we didn't come across any sort of politics. Even the members of Nagpur District Basketball Association have supported us from Day One," said the happy parents.