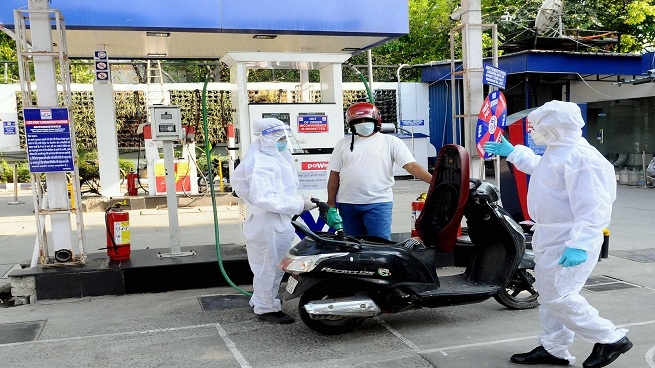 Business Bureau :
Following the footsteps of the national-level body of petroleum dealers, the city based association of fuel outlets on Saturday urged the Government to come out with a stimulus package for them. The Vidarbha Petroleum Dealers Association (VPDA), the body representing all the petroleum dealers of the region, said that the declining sales in lieu of a strict lockdown is posing a big threat to the dealers. "The dealers are facing severe financial stress because of the lockdown. The sales volume is less than 10 per cent of the sale in normal season.
This has resulted in heavy losses as expenditure to run the retail outlets remains the same. We have been asked to pay full salary to our employees. We are also paying electricity charges and water charges. But at the same time, we all are aware of our responsibility and thus operating the outlets in the national interest," said Amit Gupta, President of VPDA. He further said that the outlets all over the country are taking all precautions to avoid spread of COVID -19 which is also inflating their operational cost. "Precautions for COVID-19, were never calculated nor considered earlier. But today, these precautions have become an integral part of our business," he said highlighting precautions such as washing, cleaning and sanitisation and maintaining personal distant.
Pranay Parate, Secretary of VPDA also said that the dealers all over the region are facing hardship. "Besides sharp dip in the sales, we are also bearing the brunt of evaporation losses of fuel which is at its peak in summer. We need financial support from the Government and the oil marketing companies," he said. "The coronavirus pandemic has cast a long shadow over the business and thus we need a stimulus package at the earliest possible," he said.
Apart from this, Parate said that the outlet owners also need support from the banks. "Fuels need be supplied on credit basis at many locations, especially to the diesel consumers. But in the current situation, many transporters are unable to clear their payment which is ultimately affecting the dealers," he said. Recently, the Consortium of Indian Petroleum Dealers (CIPD) has also raised the similar demand and said that the dealer margin should be calculated based on the average sale during December 2019 to February 2020. In other words, pay the dealers based on their immediate past performance rather than on the dipped sales due to the lockdown that came into force from March.