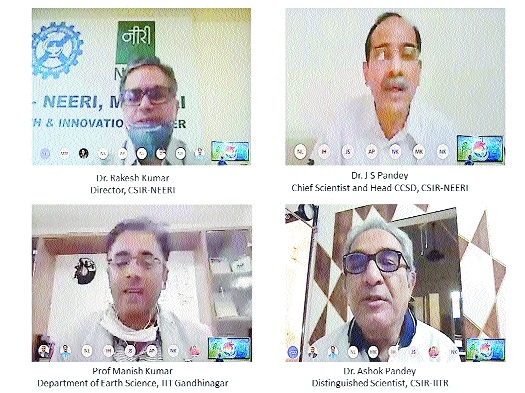 The scientists interacting with each other in virtual National Technology Day lecture
programme organised by NEERI.
Staff Reporter :
"Routine wastewater surveillance could be used as a non-invasive early-warning tool to alert communities to COVID-19 infections," said Prof Manish Kumar, Department of Earth Sciences, Indian Institute of Technology (IIT) Gandhinagar. He was the guest speaker at the National Technology Day lecture organised by CSIR-National Environmental Engineering Research Institute (CSIR-NEERI), on Monday. The lecture was broadcast live through online platform. Prof Ashok Pandey, Distinguished Scientist, CSIR-Indian Institute for Toxicology Research (CSIR-IITR), Lucknow, was the special guest on this occasion. Dr Rakesh Kumar, Director, CSIR-NEERI; and Dr J S Pandey, Chief Scientist and Head, Climate Change and Skilling Division, CSIR-NEERI, also joined this event online. Prof Manish Kumar spoke on 'Propensity of SARS-CoV2 Migration to Aquatic Environment and Wastewater Based Surveillance'.
He said that it was not possible to test all 1.3 billion people of India for COVID-19. Therefore, scientists are taking a cue from the country's surveillance programme for polio and turning to sewage to get a clearer snapshot of how many people are infected with novel coronavirus. "Wastewater epidemiology is a valuable tool to monitor the spread of novel coronavirus (SARS-CoV2) in communities," he said. Prof Manish Kumar is working with an International team of collaborators on the project. He said that it was a published fact that if somebody was infected with novel coronavirus, he would excrete it through his body in the form of faeces and urine, which, in turn, could be detected in wastewater.
"We are not going to detect the live coronavirus in wastewater but their RNA (genetic material in viruses) present in sewage water," he added. The scientist stated this collected sample would then be used in gene sequencing to assess how much genetic material of coronavirus is available. He explained that the results could then be extrapolated for a genetic material estimation of the wastewater and assigned with a probable number of people infected in a given locality or community. Prof Ashok Pandey endorsed the wastewater-based surveillance approach to combat COVID-19 and said that this method could be useful looking at the current testing limitations.
Earlier, in his welcome address, Dr Rakesh Kumar said that CSIR was working on five verticals to fight COVID-19 pandemic. These verticals include Surveillance, Rapid and Cheap Diagnosis, Development of New Therapies (including Repurposing of Drugs and New Drugs), Hospital Assistive Devices, Supply Chain and Logistics. Among these verticals, CSIR-NEERI is participating in the three verticals, he added. Prof Manish Kumar launched the website of Journal of Environmental Science & Engineering on this occasion. Dr J S Pandey proposed a vote of thanks. The former and current staff of CSIR-NEERI, students, teachers, invitees, etc were among the participants.