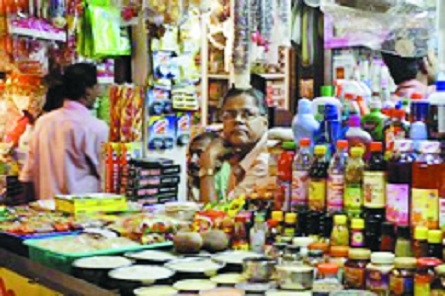 Business Bureau :
The Confederation of All India Traders (CAIT) on Tuesday said that ever since the lockdown was imposed, the Indian retail sector has lost approximately Rs 7.50 lakh crore business. Apart from this, the national level traders body said that it has resulted in Goods and Services Tax (GST) revenue loss to Central and State Governments to the tune of Rs 1.15 lakh crore. "After the lockdown is lifted, commercial markets in the country will likely see customer footfall of about 20 per cent only as the corona fear still persists among the consumers. Because of great financial crunch with the traders, it is also expected that the lockdown is likely to witness at least 20 per cent of Indian retailers collapse and wind up their businesses and about 10 per cent of other traders dependent upon these 20 per cent traders to also collapse as a consequence," CAIT pointed out.
The CAIT further said that post COVID-19, the business pattern in the country is bound to change altogether. Collaborative and systematic business, having a professional element, upgraded and modernised retail format, health safety precautionary measures, round the clock internal security systems, adoption of digital and cashless payments and other business technologies, maintaining cleanliness, customer centric business atmosphere will be the new paradigm of business. Integration of physical shops with digital e-commerce is another area and strict compliance of rules, regulations and laws shall be the basics of trade, which will change the entire retail landscape in India, the body added.
CAIT National President B C Bhartia and Secretary General Praveen Khandelwal in a joint statement said that COVID-19 has caused a huge irreparable dent in Indian retail trade which will have a devastating effect on the whole country. "The future is gripped with a lot of uncertainty. The credit cycle and movement of money in business will take at least 45-60 days post Covid to start money rolling and it is expected that at least till December, 2020, business will be in recovery mode and will be very slow. However, the traders across the country are expecting a pick up in business from Navratra to Diwali, owing to savings effected during lockdown period resulting in accumulated money being spent during the forthcoming Diwali festival season.
This is the only ray of hope for the traders," CAIT highlighted. Both Bhartia and Khandelwal said that there will be diagonal behaviour change in the consumers which will change the entire landscape of Indian retail trade. Instead of standalone business, the concept of collaborations and making consortium will be the new fundamentals of retail trade.
Traders will form collaborations or consortium on either equal profit sharing or investment based percentage of profit sharing. Such an approach will strengthen the purchasing power and minimise the operational and administrative expenses of traders. In the coming days, there is going to be a tough competition in the market where the purchasing cost will play an important role for survival in the business. Therefore, the necessity of collaboration will promote forging a business alliance between traders. Bhartia and Khandelwal said that at least 2.5 crore traders in India do not have deep pockets to sustain this severe economic catastrophe. They do not have enough capital to continue their operations at a time when their shops are shut for such prolonged periods.
On the one hand they are having to pay salaries, rentals, other monthly expenses and on the other hand they are having to deal with a sharp dip in disposable income of consumers along with strict social distancing norms which will not allow business to return to normalcy for at least 6-9 months. These conditions will bring a large dramatic change in the domestic trade of India which will ultimately be good for the Indian economy in the long run, but with some impact in the near term.
Currently, due to earlier recession and current lockdown in the Country the Indian retail sector is literally on verge of collapse and requires immediate intervention of the Government for awarding a substantial economic package as the sector is suffering with unprecedented damage. The economic pandemonium and its effects will be even bigger and far reaching than the effects of the corona pandemic, if handholding of retail trade is not carried out by the Government.