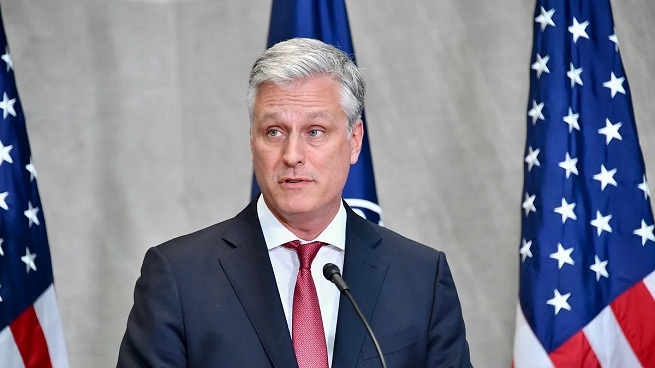 By Lalit K Jha :
WASHINGTON,
AS MANY as five plagues have come out of China in the last 20 years and at some point it has to stop, US National Security Advisor Robert O'Brien has said, holding the country responsible for the origin of the coronavirus pandemic which has killed over 2,50,000 people globally. People across the globe are going to rise up and tell the Chinese Government that "we can no longer have these plagues coming out of China", whether it is from labs or wet markets, neither one is a good answer, he told reporters at the White House on Tuesday.
"We know it came from Wuhan and I think there's circumstantial evidence that it could have come from the lab or the wet market. But, again, if you're China, neither one's a good answer," O'Brien said. "We've had five plagues from China in the last 20 years. We've had SARS, avian flu, swine flu, COVID-19 now and how longer can the world put up with this terrible public health situation that you've got in the People's Republic of China that is being unleashed on the world," the top American official said. He, however, did not mention the fifth plague to come out of from China.
"I mean, this is -- at some point, it's got to stop. We offered to send in health professionals to help the Chinese. They rejected that," he said. When asked that the US is still looking for evidence about the origin of the virus, he refrained from giving a timeframe.
US senators introduce legislation in Congress to impose sanctions on China
WASHINGTON :
NINE influential US senators have introduced a legislation in Congress seeking to authorise President Donald Trump to impose sanctions on China if it fails to cooperate in providing a full accounting of the events leading up to the outbreak of the coronavirus. The COVID-19 Accountability Act, authored by Senator Lindsay Graham and co-sponsored by eight others, was introduced in the Senate. It mandates the President to make a certification to Congress within 60 days that China has provided a full and complete accounting to any COVID-19 probe led by the US, its allies or the UN affiliates such as the World Health Organization and has closed all operating wet markets. Without the certification, the President would be authorised to impose sanctions such as asset freezes, travel bans, visa revocations, restricting US financial institutions from making loans or underwriting to Chinese businesses and prohibiting Chinese firms from being listed on American stock exchanges.