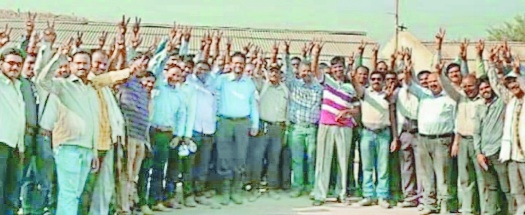 Business Bureau ;
'Truly a joy working in a company like this which provides personal care to its employees' tweets Jitesh, working as Mechanical Fitter in Underground Mine of Madhya Pradesh. 'Motivated to perform with exuberance' posts Sudhanshu, Mine Manager of Gokul Opencast Mines of Maharashtra. These and many more on social media are feelings coming straight from the heart. This is all about caring and motivating your human capital. This is Western Coalfields Ltd (WCL) called as 'Team WCL', 'Humara Vekoli' by its employees as they believe, it is their company and they are part of WCL family. Sense of belongingness necessary for cultural change in any organisation has started creeping in at WCL which can be felt and seen ubiquitously here.
WCL, a coal producing subsidiary of Coal India Ltd is emerging as a case study for PSUs and other organisations that how persistent care and motivation of Human Capital can not only transform and put a company on growth trajectory but can also bring a cultural change. A company on verge of collapse 6 years ago is now setting examples of growth with out of box thinking by its inspired and motivated employees. WCL came in existence in 1975 after nationalisation of Coal Industry with old legacy of large number of underground mines with adverse geo-mining condition. Despite constraints, WCL grew well till 2008. However, with exhaustion of reserves and high land rates, company started sliding down and reached at a level in 2013 where it was destined to be referred to BIFR.
It is said that when going gets tough, the tough gets going. A new management with a new concept took the rein in the latter part of 2014 with a concrete plan to have multi-pronged action for revival of the company. First, making projects viable with land reforms to acquire and possess required land. Second, energizing Human Capital to take up the challenge. Vision 2020 document was prepared and the plan started working well and the first new project started in January 2015. In just 1year time, WCL started bouncing back with opening of 12 projects and registering growth in production.
The main ingredient of turnaround was active employee engagement. WCL started fostering a feeling of belongingness. Gen-Nxt leadership development was introduced for young executives as a proactive succession planning strategy. Cross-section of workforce from General Mazdoor to General Manager was empowered to ideate, plan and implement initiatives as a team for growth of the company. To its disposal WCL used the social media platforms to inspire and motivate its vastly spread workforce.