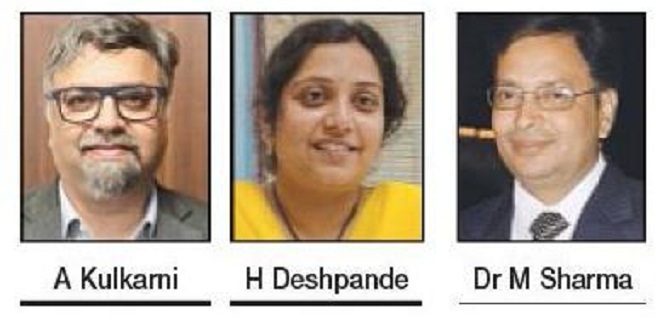 Business Bureau :
Vidarbha Industries Association (VIA) and Clean Air Asia jointly organised a webinar recently on 'Industrial preparedness to maintain air quality amidst and post COVID - 19' on zoom. Ruchi Tomar, Environment Researcher, from Clean Air Asia, welcomed all the dignitaries and participants on the occasion. She shared brief information about the Clean Air Asia an organisation also working with Ministry of Japan over issues related to Air Pollution Control across different sectors and this webinar is conceptualised under Integrated Better Air Quality by Ministry of Environment, Japan.
Suresh Rathi, President of VIA, welcomed Prof Dr Mukesh Sharma, Deptt of Civil Engineering, IIT Kanpur; Ashish Kulkarni, Associate Partner - E&Y; Hema Deshpande, SRO - MPCB Nagpur; and Dr Suhas Buddhe, Vice President of VIA. Dr Mukesh Sharma shared his views on preparedness of industries during this pandemic. He said, industrialists will have to think like they are commissioning a new unit. They should not rush to start the operations. Company owners should take at least 3 to 4 days to sanitize the whole plant and work over all health and safety related aspects. Complete overhauling to be done before starting the machine for first dry run.
It extremely important to go through the user's manual of machines before starting. Checking all the chemicals kept in unit are in good condition, checking all the machines their supports their linkages etc. through cleaning of pollution control machines to be done, their filters to be changed if required. Cleaning of chimney to be done and exhaust waste accumulated at the bottom of chimney to be disposed properly and his last suggestion was to check all the systems of control room and earthing connections for smooth operation of factories.
Hema Deshpande shared information over regulatory aspects. She said, "MPCB has given permission to operate with some precaution and industries will have to comply it. Industries have to take permission from District Magistrate, MPCB, DISH. Prior to resume operations in industries, handling of hazardous chemicals to be informed to DISH office and industries should ensure that there should not be any leakage of chemicals." Ashish Kulkarni stressed that all industrialists should go through the user manuals and undertake close monitoring of emission parameters. "This is the right time to generate the evidence and co-relation factors of percentage of emissions from the industries. All the institution should come forward to do some capacity building for industries and such communication to be established between industries and institutions." Prarthana Bohra, India Director Clean Air Asia, also shared her views and concluded the event. Representative from industries and others were present.