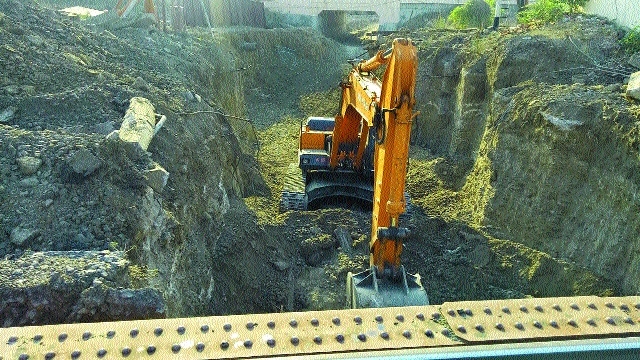 Digging Deep: An excavator removing the soil underneath the
train tracks to pave way for placing of box for construction of
subway to interconnect Wardha Road with Khapri Railway and Khapri Metro Stations.
By Sagar Mohod :
For Nagpur Metro, the project to build an underpass through railway line on Wardha will end the isolation of Khapri Metro Station and in future boost the ridership. Further importance of project on at Southern tip of Khapri fly-over is that it would provide shortest approach to MIHAN area from city. Maha Metro is busy constructing an underpass that would provide direct linkage to Khapri Metro station from Wardha Road. The railway underbridge (RuB) underneath the Khapri Railway Overbridge (RoB) is being built using push back box technology through cut and open method.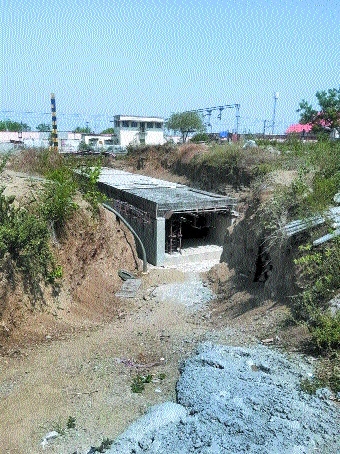 Push Box: A portion of subway under
construction at Khapri.
The box is being pushed to make way for all weather road, rather one can say tunnel, bringing the metro further close to citizens in residential colonies at Khapri off Wardha Road. While the Khapri Metro Station was commissioned about one year back, for the residents in its proximity, it was not of much use as there was no access owing to the presence of railway lines, around four in number. The current work was to be carried out by Central Railway but somehow the busy route of the work site made it impossible to get a block to enable the construction work. Now that movement of passengers carrying long distance trains are under regulated control, the railways got room to manevoure and a 20-days block period was approved for the work. Money was sanctioned for RuB under Khapri RoB in Pink Book of 2018-19 and its cost is pegged at Rs two crores. "The work on railway's land is expected to be completed by end of May, while for completion of RuB and opening the same for people would require further time," said Akhilesh Halve, Deputy General Manager (Corporate Communications), Maha Metro. Railways awarded the deposit work to MMRCL that last week successfully evacuated the soil underneath the rail and placed the RH girder to facilitate rail traffic. Now the 5mx3m steel box with length of 32 metres would be placed in a bid to finish up the work on railway portion at the earliest.
The tunnel when completed would provide 24x7 access to not only people of Khapri village but for the Metro it could signal further improvement in utilisation of the Khapri Metro Station. A number of residential colonies have sprang up off Wardha Road and for the residents reaching Khapri station is quite cumbersome as they need to travel four to five kms and further move through MIHAN area to reach the destination. Now the tunnel under the existing RoB would provide easy and fast approach as it can accommodate light commercial vehicles (LCV) with ease.
The RuB would also fulfill demand of villagers who had opposed closure of level crossing gate at Khapri as they too wanted access to Wardha Road through shortest route. For Railways the elimination of level crossing a signal post is also removed that would strengthen the safety for train movement through the corridor that caters to Grand Trunk route and Mumbai-Howrah train traffic. One more advantage for railways is that the RuB will provide direct access to Khapri railway station and same in future can be developed as suburban station.
Similarly one can now reach MIHAN area directly by crossing through the RuB that would cut down distance of five to six kms for those coming from city parts. Naresh Gurbani, Executive Director, Maha Metro, Reach-I, is overseeing the execution of work. From Railways, ADRM (Operation), Pawan Patil, Sr. Divisional Engineer (Co-ord), Ashutosh Shirvastava, Sr. Division Operations Manager (Sr. DoM) are co-ordinating for the Railways.