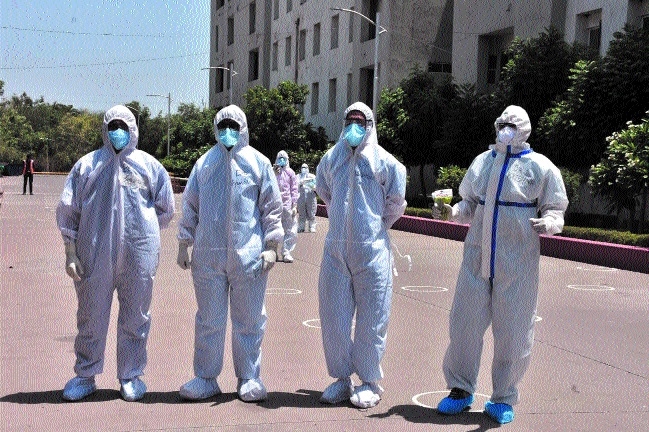 Amid their hectic schedule to battle coronavirus, health workers take a minute off and pose for the camera, while they are out for sampling in Bhopal on Wednesday.
Staff Reporter :
Coronavirus patients are being detected daily in the State capital and this has augmented the fear of community transmission in Jahangirabad area. Nevertheless, the administration is on toes to contain the virus. The Health Department and administration has geared themselves to defeat coronavirus in this battle. The citizens are being provided with all the essentials. Those residing in containment areas are undergoing medical screening. Screening of vegetable sellers: Medical screening of the wholesale vegetable vendors and buyers at Thuakheda sabzi mandi was conducted by the Health Department on Wednesday.
A vegetable wholesaler had died of coronavirus in Bhopal. Hence, the health of the vegetable and fruit sellers is being tested. Necessary sampling is also being done on the basis of their symptoms. Door-to-door screening: Medical screening of those residing in the containment zones and in buffer zones is being conducted daily by the district administration in accordance with the guidelines of Public Health and Family Welfare Department.
The Health Department also takes samples of those complaining of cold, cough and throat pain. Door-to-door thermal screening was conducted at Dwarka Dham, Gandhi Nagar on Wednesday morning. Entire city to be sanitised: On the orders of District Collector, streets of hotspot areas like Jahangirabad and Barkhedi areas are being sanitised daily. Sanitiser was also sprayed on the vehicles parked outside the homes. Adequate sanitisation is being done at public places like bus stands, intersections and main markets and the citizens are being provided all the necessary information.