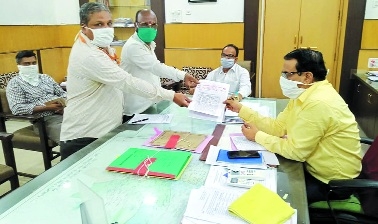 BMS delegation submitting memorandum at Collector Office.
Business Bureau :
A delegation of Bharatiya Mazdoor Sangh (BMS) led by Gajanan Gatlewar, Nagpur District Head, Suresh Choudhari, Media Chief Vidarbha Region, Ganesh Gulhane, District President, Harsha Thombre, District Organiser met Ravindra Thakare, Nagpur District Collector and handed over a letter addressed to the President of India. The letter was given to register BMS protest against the amendments in Labour Laws, Government's aggressive support towards privatisation.
In the letter BMS has also condemned the financial package announced by the Government. Government instead of announcing relief during the coronavirus pandemic, is giving shocks to the people by announcing divestment in sectors like Defence, coal mine, commercial mining policy and air port. Migrating workers, daily wage earners, workers of construction sector, employees, house workers (maid servants), workers engaged in fisheries and poultry farming, bank employees, workers of unorganised sector should be given immediate relief by the State and Central Governments, the letter stated.
The letter also condemned the amendments made in Labour Laws in the State of Uttar Pradesh, Gujarat and Madhya Pradesh. It also condemned extension of working hours from 8 hours to 12 hours in the states of Rajasthan, Goa, Odisha and Maharashtra. BMS demanded full payment of wages during lockdown period, scrap Labour Law in the State of Gujarat, MP, UP and other states, make national register of migrating workers, give freeze DA to the workers, stop privatisation of corporations, implement law protecting labour rights etc. Bharatiya Mazdoor Sangh will stage demonstration in State and national capital.