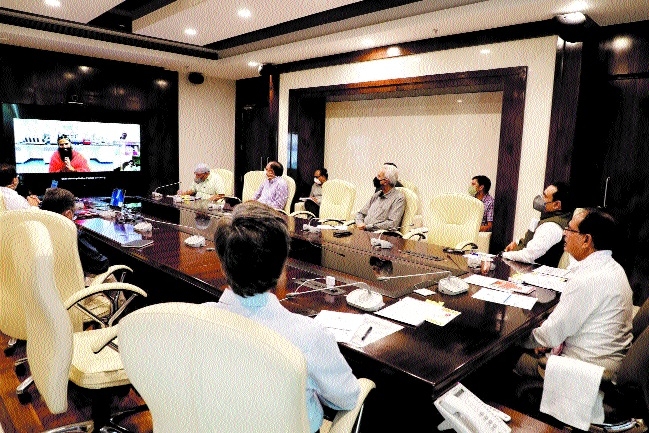 CM Shivraj Singh Chouhan and officers talking to Yoga Guru Baba Ramdev through video-conferencing at Mantralaya on Wednesday.
Staff Reporter ;
Yoga guru Baba Ramdev has said that under the leadership of Chief Minister Shivraj Singh Chouhan, Madhya Pradesh has done commendable work towards effectively checking the spread of coronavirus by increasing the immunity of people through ayurvedic medicines. The ayurvedic decoction used in the State has yielded very encouraging results.
The successful experiment in Madhya Pradesh will benefit entire world. 'Pranayam and Ayurvedic' medicines are very useful in curbing and treating corona infection, he added. Baba Ramdev held discussions with Chief Minister Shivraj Singh Chouhan and all Chief Medical and Health Officers of Madhya Pradesh through video conferencing on Wednesday. At Mantralaya, Health Minister Dr Narottam Mishra, CS Iqbal Singh Bains, DGP Vivek Johari, ACS (Health) Mohammad Suleman and Secretary, Ayush, M K Agrawal also participated. Ayurvedic decoction distributed to 2 crore people: Chief Minister Shivraj Singh Chouhan said that best possible arrangements have been made in the State to check spread of coronavirus and its treatment. Ayurvedic medicines are being used to boost immunity of people. With the co-operation of Ayush Department Trikut Kadha (decoction) has been distributed to about 2 crore people in the state. Health personnel and police personnel engaged in fighting corona are also being given it.
Chief Minister thanked Baba Ramdev for guiding the health officers about use of ayurvedic medicines and hoped that use of these medicines and Prayanam will go a long way in winning the war against corona. People with strong immunity are safe: Baba Ramdev said that corona can do no harm to those who have strong immunity. Pranayam and ayurvedic medicines significantly boost immunity. Ashvagandha and Giloy very useful: Baba Ramdev said that Ashvagandha and Giloy are very effective in breaking the chain of infection. Use of these medicines on corona patients has given very good results. Practice 6 Pranayams Regularly: Baba Ramdev advised that 6 Pranayams namely Bhastrika, Kapalbhati, Anulom-Vilom, Bhrmari and Ujjayani should be practiced regularly.
Corona patients can also practice them. It gives quick results. Concoction of Giloy, Tulsi, Black Pepper, Turmeric, Ginger Useful: Baba said that decoction of Giloy, Tulsi, Black Pepper, Turmeric and Ginger should be used daily to improve immunity. Giloy, Ashvaghandha and Anu Oil are also very useful. No illness in last 40 years: Baba Ramdev informed that in last 40 years he has never fallen ill. Whenever he feels not well he consumes concoction and Giloy. He also practices Pranayams regularly.