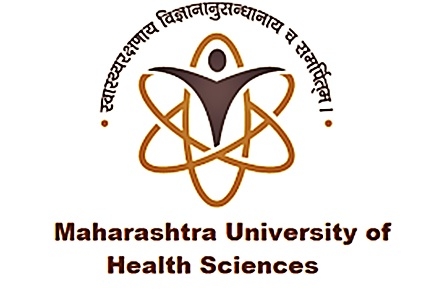 By Vikas Vaidya :
Maharashtra University of Health Sciences (MUHS) has sought guidance from various apex bodies those regulate the health sciences courses, about conducting examinations. In Maharashtra examinations of courses other than health sciences have been canceled, except of final semester one. Minister of Higher and Technical Education Uday Samant has requested University Grants Commission (UGC) to cancel the final semester examination too. Against this background students and parents are awaiting the decision to be taken by MUHS. Last month MUHS had postponed the examinations of Post Graduate health sciences courses after the intervention of Medical Education Minister Amit Deshmukh.
Now the deliberations are going on about conducting the examinations. MUHS has several health sciences courses including MBBS, BDS, Physiotherapy, Ayurved, Homoeopathy, Unani, Nursing etc. MUHS single-handedly can't take the decision about examination. It has to take permission from the respective apex bodies. MBBS is regulated by Medical Council of India. Apex body for dental courses is Dental Council of India (DCI).
Similarly AYUSH is for Ayurved, Homoeopathy, Unani etc. Nursing Council looks after nursing courses while Physiotherapy council regulates physiotherapy and occupational therapy courses. There are other apex bodies for other courses. MUHS Vice-Chancellor Dr Dileep Mhaisekar has sent a letter to all the councils wherein it sought guidance from them regarding conducting examinations. MUHS has put position of state before these apex bodies. Though after some relaxations in State, the movement of people, vechicles is still a difficult. In such situation the process of holding examination is not easy. "Suppose we have to invite examiners from other college from other city, issue of permission from the authority to move, transportation, stay of examiner if needed at the place of examination are the issues we have to deal with. I have put all those issues in the letter and sought guidance from all these apex bodies about holding the examinations," Dr Mhaisekar told 'The Hitavada'.
State CET cell's smart timetable Maharashtra State Cell for Common Entrance Test (CET) has come up with a smart timetable for holding tests for the admissions to engineering, pharmacy and some other courses. MHT-CET 2020, is scheduled on the dates viz. July 4, 6, 7, 8, 9, 10, 13, 14, 28, 29, 30, 31 and August 3, 4 and 5, 2020. The said examination will be conducted in PCM (Physics, Chemistry and Mathematics) and PCB (Physics, Chemistry and Biology). Students have been asked to visit website (www.mahacet.org) for the regular updates and notices. This is being clarified in the interest of the candidates who have registered for MHT CET 2020, said Commissioner and Competent Authority State CET Cell.