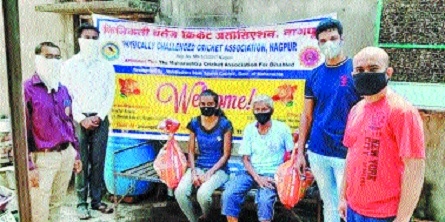 Members of Physically Challenged Cricket Association and Deepjyoti Bahuuddeshiya Sanstha providing ration to international athlete Prajakta Godbole.
Sports Reporter ;
IN A joint venture, the Physically Challenged Cricket Association Nagpur (PCCAN) and Deepjyoti Bahuuddeshiya Sanstha Nagpur have come forward with help for needy sportspersons during the tough times. The corona pandemic enforced lockdown has affected all including sportspersons. One of city's top athletes Prajakta Godbole, who has represented India in many events and has won medals for the nation has been severely affected by the lockdown.
Piyush Akre of AAP Yuwa Aghadi, PCCAN's Sachin Thombre, who works in Crime Branch, Nagpur and Dhiraj Harde took initiative provided her family with food packets and promised of helping her in future also. Both the organisations also helped 25 physically challenged sportspersons with food packets. Bhavesh Bhisikar, Sajid Khan, MS Associates, Anil Kotangle Bhushan Dalwe, Piyush Ambulkar, Dhananjay Upasani, Ashok Katekar, Janak Sahu, Parag Watkar, Kamal Bajjipuri, Piyush Akre, Rajesh Watkar and Akshay Dupare took efforts for the noble cause. President of PCCAN Gurudas Raut, through a press release, urged all the needy physically challenged players to contact them in case they need any support.