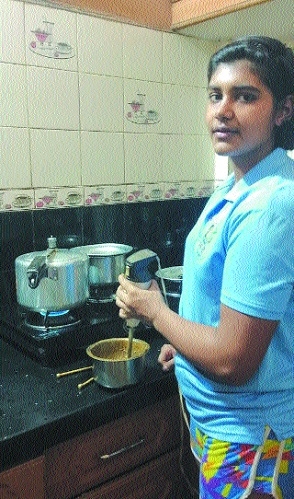 Himani Fadke
City's star swimmers Sharayu Fartode, Rutuja Talegaonkar, Himani Fadke and Nishant Bagal are keeping themselves occupied during this lockdown period by getting engaged in several hobbies like cooking, drawing, nail art, reading books, Acroyoga and Warli painting. Sharayu, who has won bronze medal at the UIPM 2019 Biathle Triathle World Championships in Egypt, is now engaging herself into drawing, Warli painting, Shell painting etc. "Since I am having all the time in the world I am now focusing on Warli and Shell painting. Earlier because of swimming competitions and college I never got enough time to work on my hobbies. But now thanks to the lockdown I am working on both my hobbies as well as my fitness. I am performing Acroyoga daily for my strength and recently I also attended an online workshop on diet/fitness and training which was quite useful. Sometimes I also water the garden but its a rare sight."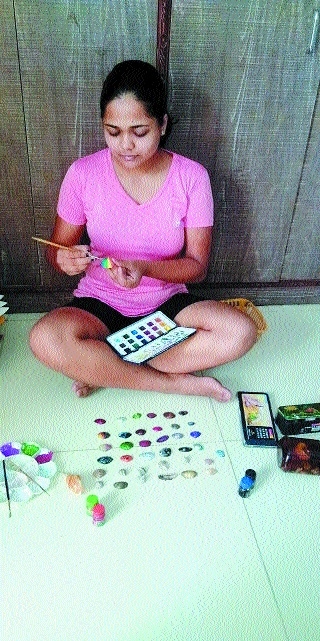 The young swimmer who finished sixth at the All India 14kms long distance swimming competition at the Hooghly river in West Bengal also indulges herself in cooking and baking. "Once or twice a week I indulge myself in cooking. I like to make different kinds of pastries and cookies. Sometime I make flaky pastry while at other I prefer puff pastry." Rutuja who, has participated in Federation Internationale De Natation (FINA) World Junior Open Water Sea Swimming 10kms Championship in Israel, engages herself in cooking and reading during the COVID-19 pandemic period.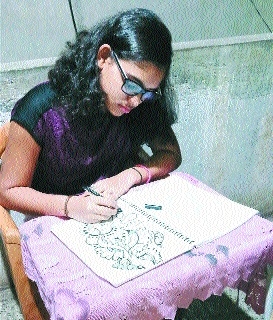 Rutuja Talegaonkar
"I have received a letter from FINA stating that due to the novel coronavirus there won't be any swimming competitions till December end. Since I am having ample spare time I am trying out different sorts of pastas and cakes. Chocolate cake is my favourite. I am learning new recipes every week. At the moment I am reading Sherlock Holmes. Everyday I ready for an hour or so. I prefer to read crime and mystery novels," Rutuja said. City's well known swimmer Himani Fadke, who bagged gold at the International Open Sea Competition in Kuwait 2019 and winner of the Akhil Bhartiya National Open Sea Swimming Championship on two occasions, focuses on her studies during this unwanted break. "In 2021 I will be appearing for my Higher School Secondary Certificate (HSC) exam. So, in order to score well I need to study hard. Also I want to keep myself well prepared ahead of the exam and upcoming swimming competitions which will be held incase the lockdown is relaxed," Rutuja said.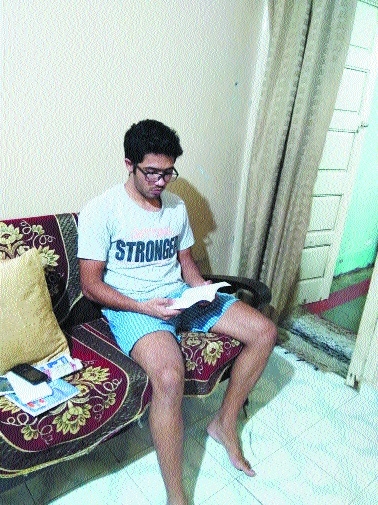 Nishant Bagal
She added, "Apart from studies I also try out different recipes during this outbreak period. Being a foodie I like to prepare cakes and cookies. Since there are no competitions in near future I don't have to worry over the diet. I love having a brownie or a mud pie desert every now and then." Another swimmer from the city Nishant Bagal who, was part of the 2017 and 2019 All India Inter-University Swimming Competition is enjoying this break by playing online computer games and reading novels. "The break has offered everyone a lot of free time.
Earlier I used to get bored but now I am working on my hobbies like reading and playing online games with my friends. Currently I am reading 'Rich Dad Poor Dad'. Apart from reading and playing computer games I am also taking online classes for Python and C++ which would eventually help me in my career," said Nishant who is pursuing his mechanical engineering from KDK College. He added, "break doesn't mean that you can skip fitness and workout. Every morning I do yoga and some breathing exercises as swimming is all about correct breathing and mental toughness."