Vaishnavi Bhale (2R) with father Vikas, who was an SBI employee, mother Anjali, who works with the LIC, grandmother and coach Kiran Makode (right).
ONE tries to give one's best when put up against one of the best in business. It is not the end result that only matters, it is the effort and the way one takes to the fight that also counts. City shuttler Vaishnavi Bhale have won All India Ranking Tournament (Bareilly 2015), she has been runner-up in singles and doubles at same event (All India Ranking Tournament at Sikkim in 2016) but those who are really close to her know that she gave her best shot against Olympic medallist and defending national champion Saina Nehwal in semi-finals of the 83rd Senior National Badminton Championships 2019 in Guwahati. "We were not there at the venue in Guwahati but were watching the match live at home. I have seen her play many times in many tournaments but to me that was her best performance.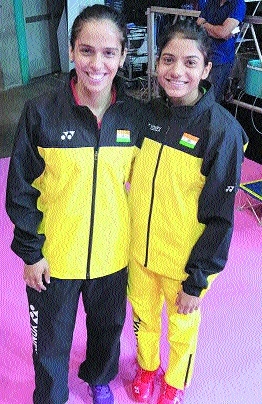 Vaishnavi with Uber Cup India team-mate Saina Nehwal.
It is my most memorable moment of my daughter. Though she lost and had to be satisfied with a bronze medal, her effort against player of the calibre of Saina was heart-warming," said Vaishnavi's other Anjali while interacting with 'The Hitavada'. Vaishnavi went down to India star Saina in competitive games 21-15, 21-14. "One of the proud moments was when she created a Nagpur University (Rashtrasant Tukadoji Maharaj Nagpur University) record by representing India at three succesive Summer Universiade Games (2015-Gwangju Republic Of Korea; 2016-Russia and 2017-Taipei)," the mother added. Vaishnavi was also part of Indian team for BWF Thomas and Uber Cup which was held at Bangkok 2018 and Badminton Asia Mix Team Championship held at Hong Kong in 2018.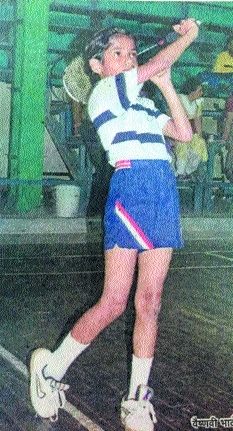 A young Vaishnavi in action on her way to a district title.
She also represented Ahmedabad Smash Master in Premier Badminton League Season 4. "During PBL she had chance to practise with 2017 World Champion Viktor Axelsen of Denmark. She gained much confidence from the event. The appreciation from international players boosted her confidence. Axelsen particularly liked her drop shots," said Anjali. It all started when the single child was just eight. "I wanted her to learn at last one sport. I was also national level player (kho-kho, athletics and handball) and wanted that my daughter should also pick up some sport. I had made up my mind not to put her into any team event and wanted her to pick only individual sport.
"My brother's daughters Varda and Dyannada Dixit were already established state-level badminton players by then so it was an easy decision to send her for badminton coaching. When Vaishnavi was eight, we got her admitted at Kiran Makode Sir's academy and since then she is with Kiran Sir. He has been of immense help," said Anjali. The right-handed player who later rose to India Number 2 (presently ranked 13) fell in love with the sport very quickly. "She developed interest from the first day and never got bored from it as she started loving the sport. She never refused to go for training for even a single day. She was determined and focused right from the beginning.
"From her second year into badminton, Vaishnavi started winning titles. She went on to win Under-10 13 and 15 district titles. She used to win almost all the championships in city and really picked well from U-17 age group," the mother reclled her ward's jounrey. Vaishnavi's mother feels that if one wants to make a career in sports, one must not shun it midway. "With her efforts, Vaishnavi got a job with Indian Railways But it is not easy. If one wants to purse career in sports, one must to it wholeheartedly. Losing focus and stopping midway will take one nowhere," Anjali, who also secured a job in sports quota in LIC, asserted. According to Anjali, sponsorship also plays a big role in a player's life. "Vaishnavi never received any sponsorship of any kind from anybody. That is one of the main reasons she could not participate in international events. We could not do that with our salary and that still holds true. All her international tournaments have been with Indian teams only. "She is also trying to be India number one in near future. We have confidence in her abilities but lets see what is in store for her in future," she concluded.