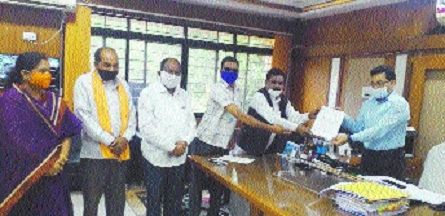 Ashok Nete, MP, and others submitting a memorandum to Deepak Singla, Collector.
District Correspondent :
Gadchiroli, Bharatiya Janata Party has demanded economic package for comman people to deal with difficulties caused due to coronavirus pandemic. A delegation of the party workers called on Deepak Singla, District Collector, on Thursday and submitted him a memorandum in this regard. Maharashtra has recorded the highest number of corona deaths. People are facing severe difficulties. The government has however not declared any package for the people.
A package should therefore be announced soon and people be given relief, said the memorandum. It also alleged that the State Government has failed in taking the necessary measures directed by the Centre to contain coronavirus pandemic. The farmers are facing difficulties as the paddy, cotton and corn crops are not being lifted by the government.
The payment of paddy has not been made to the farmers even after selling it to the purchase centres of the government, was pointed out the memorandum. Instead of looking into the corona situation the rulers are engaged into their own disputes, alleged the memorandum and demanded immediate measures to contain coronavirus. The delegation included Ravindra Ollalwar, Dr Bharat Khati, General Secretaries, Pramod Pipre, Councilor, Ramesh Bhurse, Awinash Vishrojwar, Ranjeeta Kodape, Ramesh Barsagade, Sunil Pardhi and others.