NAGPURIANS have got a reason to smile. The recovery rate of the COVID-19 positive patients in Nagpur is best in the entire country. About 74 per cent people in the city who had tested positive for coronavirus have recovered and gone home, informed Dr Nitin Raut, Guardian Minister. He made the statement based on statistics. As many as 290 patients who had tested positive for coronavirus have recovered till date. The cumulative figure of corona positive cases now is 397. Talking to 'The Hitavada' Dr Raut said,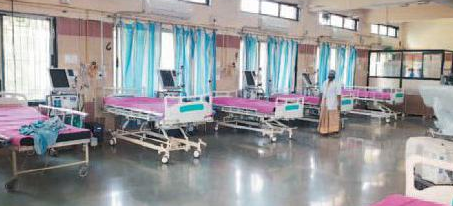 "The recovery rate of India is 40.4 percent and Maharashtra registered 26.3 percent. In comparison to this statistics, Nagpur is doing exceedingly well." On Friday, 10 persons became corona-free. Out of these ten, three were discharged from IGGMCH while 7 got discharge from Government Medical College and Hospital (GMCH). Most of these people who have recovered are either from Satranjipura or Mominpura. With the recovery of 10 persons, total number of people discharged reached the 290.
The number of patients recovered from GMCH reached 152 while the IGGMCH number reached 138. Two tested positive in IGGMCH, both are residents of Gaddigodam. Similarly, one sample that tested positive was examined at the laboratory at National Environmental and Engineering Research Institute (NEERI). Admiring the efforts of frontline healthworkers, Dr Raut said, "In a short span of time our doctors developed the COVID-19 facility. For this, GMCH converted its Trauma Care Centre into a well-equipped hospital dedicated to patients treated for coronavirus. IGGMCH also came up with 600-bed facility separately for such patients." As per the statistics compiled by Nagpur Municipal Corporation (NMC), cumulative number of people testing negative reached 4,485. Total active cases in city are 104. The spurt in number of positive cases in recent past is because of increase in number of diagnostic laboratories in city.
At present Nagpur has five laboratoriesinGovernmentsetup and one is Dhruv Pathology whichisprivate. Onemorelaboratory is coming up at Rashtrasant Tukadoji Maharaj Nagpur University. With more number of laboratories more tests were conducted. Apart from that, the steps taken by administration like sealing the areas, putting some parts of city under containment, restricting public movementshelpeda lotinpreventing further spread of the virus. Thenewguidelinesissuedby Ministry of Health and Family Welfare wherein patients were declared recovered within ten days, helped increase in numberofpeop