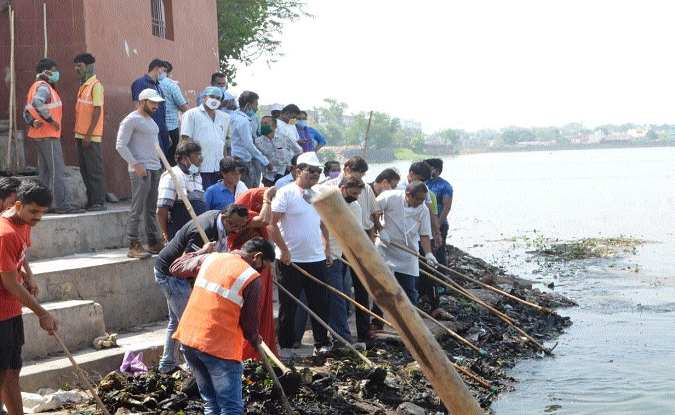 Raipur Municipal Corporation (RMC) on Friday commenced a cleaning drive to purge watercress from Rajatalab within 10 days. Over 10 dump truck-full waste and 6 tractors of watercress were scooped out of the water body.
According to the information, an idol of Ganesha was found while cleaning of historical 14th-century lake Budhatalab-Vivekananda Sarovar. The cleaning crew has also dredged out 750 dumpers full of sludge from the lake.
Raipur Mayor Aijaz Dhebar on Friday inspected the cleaning work going on at Rajatalab on the spot. He was accompanied Corporator Kamran Ansari and Zone-3 Commissioner Arun Kumar Sahu.
RMC Zone-3 Commissioner Sahu informed the Mayor that a team of 20 sanitation workers is deployed at Rajatalab. The team has scooped out tonnes of waste and 6-tractor trolley full of watercress and transported to the dumpsite. Mayor Dhebar directed Zone-3 Commissioner to complete the cleaning of Rajatalab in next 10 days through the intense drive.
Mayor Dhebar also visited the Swami Vivekananda Sarovar, where the cleaning drive was launched on May 11. Mayor along with Social Worker Naveen Deepa Chandrakar and Manish Vora inspected the cleaning operation. On Friday, workers found an idol of Lord Ganesha from Budhatalab. The cleaning works starts at 8 am and continue till 1 pm and then from 4 pm to 5 pm in two shifts. In the six-hour, 11 trucks, 7 Backhoe Loaders, 1 big Poclain Machine, RMC Health Department, Mayor Swacchta Helpline, Zone-7 Health Department's 85 sanitation workers, 30 additional contract workers, and 50 fishermen are engaged in the cleaning work and so far 750 trucks full of wastage have been transported from the Budhatalab. The sanitation drive is expected to be completed by May 25 and then the beautification work will begin.