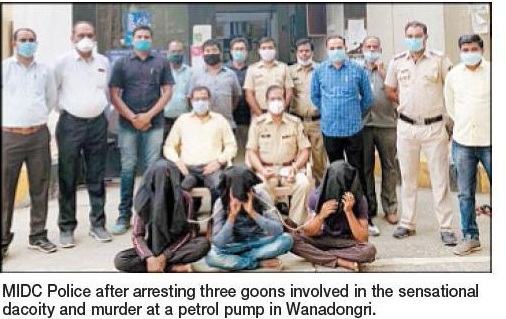 Special Correspondent :
Dreaded criminal and prime accused Sagarsingh alias Paji Bawri still at large
Cops take two juveniles into custody
MIDC Police on Friday arrested three goons and took two juvenile delinquents into custody for looting more than Rs one lakh cash from the petrol pump -- Vidya Servo Petroleum (an outlet of Indian Oil Corporation) -- in Wanadongri after killing an employee and injuring another seriously. However, prime accused Sagarsingh alias Paji Bawri (23), a historysheeter, managed to give a slip to the cops. Those arrested have been identified as Akshay Shalik Jadhav (19), a resident of Banwadi, Taluka Hingna, Anil Ramsingh Pal (24), a resident of U-161, Mohite Estate, near Amitasha Company, MIDC and Rahul Suresh Raut (18), a resident Plot No U-95, Zone Chowk, near Vishwakarma Company.
Two boys in conflict with the law were also taken into custody early Friday morning. In the small hours of Thursday, Sagarsingh Bawri and other accused had brutally killed Pandhari Shriramji Bhandarkar (61) with an axe and attacked his colleague Leeladhar Marotrao Gohte (53) with other sharp-edged weapons when they were asleep at the petrol pump situated on Hingna-Amravati Outer Ring Road in Wanadongri. A resident of Vaibhav Nagar, Bhandarkar was killed on the spot while Gohte sustained serious injuries. The accused then broke the locker in the cabin at the petrol pump and made away with more than Rs one lakh cash.
A resident of Puja Layout, Jaitala, Gohte was rushed to a Dhantoli-based private hospital. After recording the statement of petrol pump owner Sanjay Madhukar Ugale (47), a resident of Plot No 24, Friends Layout No 2, Deendayal Nagar, police had registered a case under Sections 302, 307, 397 and 34 of the Indian Penal Code. Soon after the incident, three police teams were formed under the guidance of Commissioner of Police Dr Bhushan Kumar Upadhyay, Deputy Commissioners of Police Vivek Masal (Zone I) and Gajanan Rajmane (Detection) and Assistant Commissioner of Police (MIDC Division) Siddharth Shinde to trace the criminals.
One of the teams comprising Senior Inspector Hemantkumar Kharabe (In-charge of MIDC Police Station), Assistant Police Inspector Ramesh Hattigote, Sub-Inspectors Nitin Madankar, Devanand Bagmare, Vikas Jadhav, Assistant Sub-Inspector Dattaram Kale and others detained 15 persons for questioning last night. The team came to know that Sagarsingh Bawri, a resident of Sardar Mohalla, Hingna, and his accomplices were involved in the crime. Though Bawri managed to escape, the team traced and nabbed the other accused in the case. Speaking to 'The Hitavada,' Senior Inspector Kharabe said that separate teams were fanned out in search of Bawri. "We will soon trap him," he expressed confidence.
Sagarsingh Bawri was involved in contract killing too SENIOR Inspector Hemantkumar Kharabe informed that Sagarsingh Bawri was involved several crimes of serious nature, including the sensational contract killing of Moreshwar alias Mahesh Mahadeorao Wankhede, principal of a Chandrapur-based college run by Dnyandeep Shikshan Prasarak Mandal, near Neeri gate in 2017. Wankhede's wife Anita, a lecturer, and daughter Sayli had given lakhs of rupees to Sagarsingh Bawri, Ankit Katewar alias Kata, Shashikant Chaudhary and Ankush Bagde to eliminate him.
The 'supari' was given to them through Shubham Mohurle who was Sayli's alleged paramour. Mother of a six-year-old girl, Sayli was separated from her husband and was staying with her mother. Anita and Sayli had plotted the murder as Wankhede often used to cast doubts on their character. The mother-daughter wanted to enjoy their social and economic liberty but Wankhede was an obstacle. Through Shubham, they had roped in Bawri and others to kill him Accused Bawri was released on bail in the case and continued indulging in criminal activities in Wadi and MIDC areas.