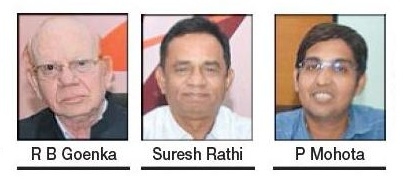 Business Bureau :
Interacting with the participants of the zoom meeting on power tariff and other related issues held on Friday, R B Goenka, Vice President VIA, said that the Maharashtra Electricity Regulatory Commission (MERC) has incorporated most of the associations' suggestions in the new electricity tariff. He expressed satisfaction over the new tariff that came into effect from April 1, 2020. Goenka and Prashant Mohota, Chairman of VIA Energy Forum, were jointly conducting the webinar organised by the Vidarbha Industries Association (VIA) on "Tariff & Optimization of Electricity Bills".
Elaborating on the topic, Goenka said that "the commission has issued very good order in the adverse situation. It has also cut off the grid support charges for roof top solar system. Apart from this, three months moratorium has been provided for paying demand charges under the circumstances of lockdown of industries due to COVID-19," he added. It is important to note that the commission has accepted the VIA proposal for bringing stability in Fuel adjustment charges (FAC). MERC has created a buffer for stabilization of FAC and has created a provision of FAC fund.
The MERC has directed the distribution licensee to undertake computation of monthly FAC and negative FAC amount shall be carried forward to next FAC billing cycle with holding cost. Such carried forward amount shall be adjusted against FAC amount of next month and balance shall again be forwarded to next month. Such carried forward negative FAC shall be continued till the accumulated negative Fuel adjustment charges becomes 20 per cent monthly tariff revenue approved by the commission. The commission has introduced KVAH billing for HT consumers and bulk consumption discount. In the lockdown period, the commission has allowed revision in contract demand up to three occasions for HT industrial and commercial consumer and up to 2 occasions to LT industrial and commercial consumers in a billing cycle for a limited period up to July 31, 2020.
Further, subsequent to third change in the contract demand by HT consumers, limit of maximum load factor incentive has been reduced to 10 per cent of energy charge for concerned period. The consumers will have to apply at least three days in a advance for revision in contract demand The MERC and MSEDCL have supported the consumers for mitigating the impact of Corona virus. The commission has provided monitorium period of three billing cycle starting from March 25, 2020 for payment of fixed / demand charges. The commission has not decided upon the treatment of interest the licensee will have to pay for borrowing additional working capital. "The MSEDCL has reduced their contract demand for some industrial consumers in the State just on the basis of online application for a temporary period applicable from March 21 but has not communicated this through any communication or on its website. However, after some consumers raised this issue, MSEDCL has started taking online application for temporary reduction of contract demand from the date of application," he pointed out.
Goenka further added that when some of the consumers again objected and requested for back dated reduction of contract demand, the MSEDCL made the provision of back date reduction in its online application. "But for no reason this back date provision reduction in contract demand was withdrawn and a condition was put that the reduction shall be minimum 187 KVA or 20 per cent of the contract demand whichever is less. This provision is still applicable," he said. Goenka told the participants that partial enhancement of demand is possible but the total change in demand application is limited to 2 applications in a month. MERC has recently issued a practice direction on May 21 for revision in contract demand conditions in a billing cycle. As per SOP Regulations revision in contract demand was to be effected within 2nd billing cycle and agreement was to be executed. Consumer may install solar generating plant at any location in the state under net billing system for capacity limited to his contract demand. MSEDCL shall purchase 100 per cent power from point of common coupling at the rate of average power purchase price of MSEDCL from all the sources In net billing system, there is no bar of 1 MW but consumer may install more than 1 MW capacity limited to his contract demand at any location owned by him or taken on lease.
The power shall be injected in MSEDCL grid with infrastructure to be created by the consumer. No losses shall be deducted from power injected. Earlier, Suresh Rathi, President – VIA, in his welcome address welcomed the guest speakers and the participants. He said VIA had given various representations to Energy Minister regarding appointment of nominee Director in MSEB Holding Co Ltd from Vidarbha Industries Association and also made some representation to the Government about waiver of fixed and demand charges given for three months. All these representations were given during the lockdown period to the Governments. Prashant Mohota proposed the formal vote of thanks. About 140 industry representatives and others attended the session.
Highlights of the new tariff that came into effect from April 1, 2020
• Grid support charges for roof top solar system are made zero.
• MERC has decided zero grid support charges and banking charges.
• Three months moratorium has been provided for paying demand charges during the lockdown period.
• The commission has accepted VIA proposal for bringing stability in FAC charges.
• KVAH billing has been introduced for HT consumers.
• No power factor penalty and no incentives given.
• Load factor incentive is provided and shut down hours from MSEDCL site shall be compensated
• Bulk consumption discount is introduced.
• Incremental consumption discount is introduced but shall be adjusted annually
• Wheeling charges are made same for 11 KV, 22 KV and 33 KV consumers.