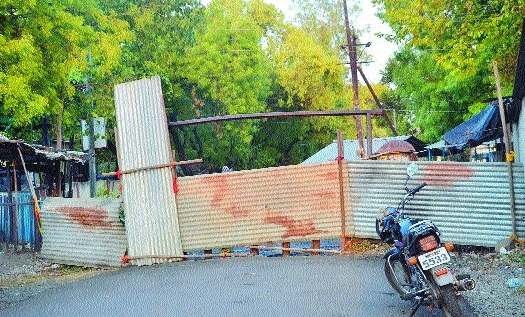 The sealed Ajni Railway Quarters area where one more person
tested positive for dreaded coronavirus. (Pic by Satish Raut)
Principal Correspondent :
In Nagpur on Thursday, total 8 persons tested positive for coronavirus while six persons recovered. With the new eight cases, the number of coronavirus positive reached 437. With the recovery of six persons about 328 became COVID-19-free. All the eight samples that tested positive were examined at the virology laboratory of Indira Gandhi Government Medical College and Hospital (IGGMCH). Out of those eight one is suspect of IGGMCH, a resident of Ajni Railway quarter. Seven were at a quarantine centre.
Out of those seven, four are the residents of Mominpura while two are from Tipu Sultan Chowk and one is from Siraspeth. The six persons recovered were under treatment at IGGMCH isolation wards. Out of these six discharged, four are the residents of Golibar Chowk with two women, one man and one child. One man from Timki and one woman from Mominpura too became corona-free. The number of recovered reached 328. The number of patients discharged from GMCH reached 152 while the IGGMCH number stands at 176.
About 20 areas have zero cases Out of a total 33 areas in ten zones in Nagpur city, about 20 areas have zero number of cases. Though there is a drastic reduction in number of cases in Mominpura due to faster recovery thanks to new guidelines of Ministry of Health and Family Welfare, in the list of active cases the area is still at top. Till now 198 cases have been tested positive for coronavirus from Mominpura alone which is the highest in Nagpur. Satranjipura followed by 105. Now most of the Satranjipura residents have been recovered. Out of 198 Mominpura residents who tested positive 173 got recovered. But daily 2 or 3 persons are getting added in the list of corona positive from Mominpura. Right now 23 persons of Mominpura are under treatment.