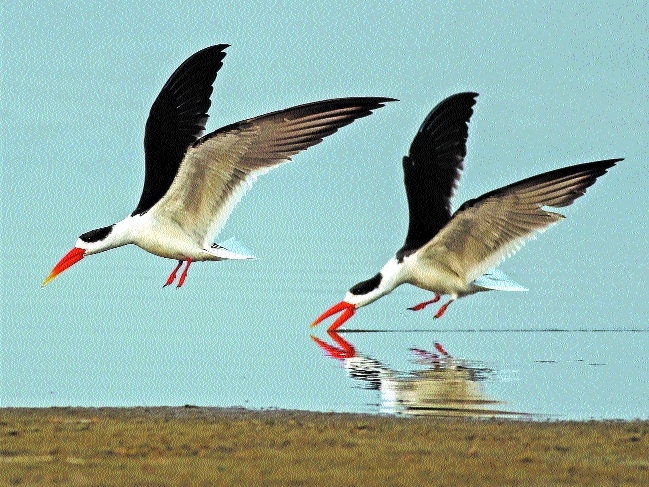 Indian skimmers
By Ankita Garg :
Indian skimmers popularly known as 'River Guardian' flocks the Chambal region of Madhya Pradesh in group. This year their study and tagging by Bombay Natural History Society (BNHS) is delayed due to the nation-wide lockdown. The team of scientist was supposed to visit Morena and nearby districts for surveying the skimmers nesting. But due to the COVID-19 pandemic, the team could not reach yet. Chambal region is a place where significant Indian skimmers population breeds.
The species breeds on sand bars and islands that are exposed during low water levels in summers, a habitat that is not without risk. Scientists tag the species in Chambal region when the birds reached from other areas. This bird is also found on Myanmar, Pakistan, Bangladesh but principally in India. Mohammed Khalid, Bhopal Birds said that this is a rare bird visit Chambal region every year during winters. He said about 80 per cent birds reached in Chambal region and then scientist tag the satellite on their body to make study of their behaviour, diet and other routine.
Speciality of this bird is that it likes to fly above the water and hunt the fish within a second. Female skimmer lays three to four eggs at once. When the bird gets hungry, it flies low over water, bill wide open. After tagging the skimmers, scientist checks whether the same skimmers are returning to the area every year or some other birds are reaching to the area. It also helps to make study on their favourite place, food, routine and behaviour.