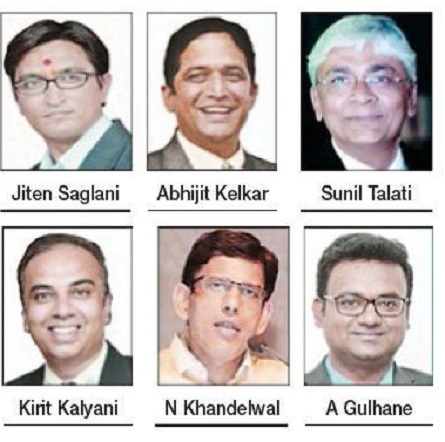 Business Bureau :
NAGPUR Branch of WIRC of ICAI hosted a webinar on 'Opportunities during lockdown in COVID 19' to help members update their knowledge base. CA Sunil Talati, Past Chairman of ICAI from Ahmedabad and Vice- Chairman of Services Export Promotion Council (SEPC) said, services are going to be in great demand in countries like USA, UK, Canada and Australia, which basically are basically English speaking countries and the accounts are generally more or less maintained in same fashion, as are in India. Earning trust and confidence is must. He believed that Indian CAs are perfectly trained for export of services and hence unlocking professional opportunities during lockdown is the need of hour.
CA Navin Khandelwal, Indore, convinced the members with respect to importance of several other avenues that need to be explored on unlocked, so as to effectively look up after the lockdown phase is over. He discussed the probable impact of COVID phase on various service industries. He appealed the members to make use of best possible e-resources to extend best services to help clients. He conveyed to use communication modes including emails, etc., to provide services like impact analysis, cash flow analysis, assessing modes of right mix of finance, formulating market strategy, cost cutting analysis, etc. He summed up his talk by highlighting the importance and modes of ensuring effective business continuity plan, for getting through this unfortunate phase of pandemic in the best manner possible.
CA Kirit N. Kalyani, Chairman of ICAI,Nagpur Branch said, "On account of unfortunate outbreak of COVID-19, on one hand, we are compelled to stay locked at our homes since about a month. On the other hand, we have been able to introspect ourselves, find enough time to enjoy life with family members, that was missing since long. Also, we got opportunity to update ourselves with options including webinars." Before signing off, he appealed the attendees to remain in touch with efforts and ventures of Nagpur Branch to stay updated at all times.
CA Abhijit Kelkar, RCM appreciated the efforts of Nagpur Branch of ICAI in organising the webinar. CAs Akshay Gulhane, Jiten Saglani, Saket Bagdia, Sanjay Agrawal, Suren Duragkar, Harish Rangwani, Julfesh Shah, Rajesh Kabra, Chirag Kothari, Arjun Phatak, Preet Chandwani, Utkarsh Mehta, Mohd Asim Nehal, Jagdish Gupta and others.