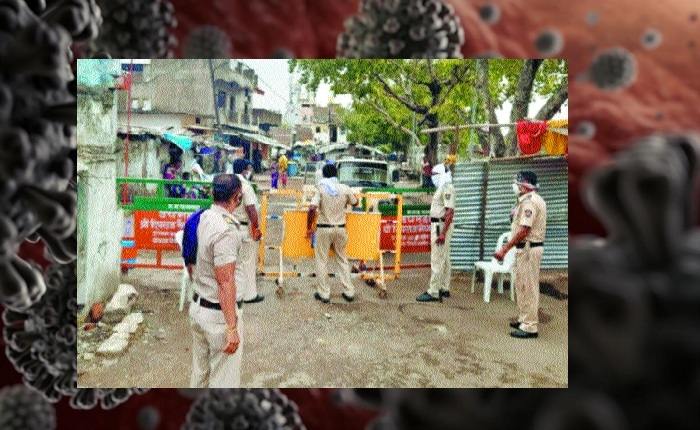 Naik Talao, the new hotspot, sealed by NMC. (Pic by Satish Raut)
Principal Correspondent :
Till five days ago, Mominpura and Satranjipura areas of Nagpur were called as hotspots for coronavirus positive. Suddenly, a spike of coronavirus positive cases was witnessed in Naik Talao area and people in bulk tested positive. It has not stopped there, the cases kept coming positive on regular basis. This number crossed 100 and administration, too, got confused with this spurt in one area. As a routine process, it tried to trace the source from where the area witnessed spread and the fact came to the fore. A person had hosted a party in Naik Talao area which was attended by some 6 to 7 persons. This party became the cause of spread of coronavirus cases in that area.
Everyday, persons from Naik Talao area tested positive. On Tuesday, out of 39 persons tested positive for this dreaded virus, 29 are from this area. Health Officer of Nagpur Municipal Corporation found that a resident of Naik Talao had hosted party for his friends. He had brought food item from Mominpura, which is a main hotspot of city at this juncture. After the party, from next day coronavirus spread in the Naik Talao area with 16 members of one family testing positive for coronavirus. The virus from this family reached their four neighbours. They also became victims of the virus. 13 members of a family of one of the friends who attended the party too tested positive.
The number kept on increasing and finally crossed 70 mark. Like Mominpura, Satranjipura the area of Naik Talao too has congestion. Considering that factor, Tukaram Mundhe, Municipal Commissioner took swift decision to seal it. After sealing, Commissioner has immediately put around 700 people of this area under quarantine. Now Naik Talao has become new hotspot and haunting the administration. The health department feels, more number of cases may come positive from this area.