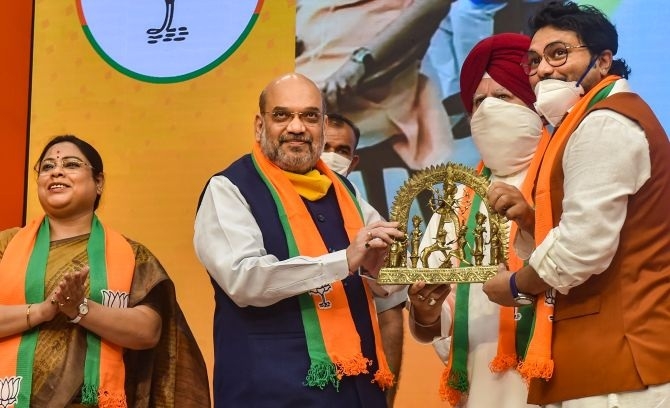 Union Home Minister and senior BJP leader Amit Shah being
presented a memento by Union Minister and party leader from West Bengal Babul Supriyo, during 'West Bengal Jan Samvad' virtual rally, at party headquarters in New Delhi on Tuesday. (PTI)
KOLKATA :
WEST Bengal Chief Minister Mamata Banerjee "insulted" migrant workers returning to the State on 'Shramik Special' trains by calling them 'Corona Express,' Home Minister Amit Shah said on Tuesday, as he tried to reach out to the vast constituency of harried migrants and their families.
Shah asserted the migrant workers will now ensure the "exit" of the Banerjee Government in the 2021 Assembly polls. He also attacked the ruling TMC supremo over the "industry of political violence" being run in the State. Addressing a virtual rally for Bengal from the national capital, Shah, one of the architects of the Citizenship (Amendment) Act, asserted the people of the State will reduce Banerjee to a "political refugee" for opposing the new law in order to "appease" a minority community. "
UP received 1,700 trains, Bihar 1,500. I was stunned when Mamata Didi called Shramik Special trains coming to Bengal Corona Express. You insulted the migrants, you rubbed salt into their wounds, and now this Corona Express will lead you to your exit (from power). People will not forget this insult," he said. Banerjee had criticised the railways for running "too many" Shramik Special trains resulting in a surge in the number of COVID 19 cases, and deprecatingly called them Corona Express. "We want this atmosphere of terror to go," the former BJP President said, and urged people to vote the party to power in the Assembly elections next year.