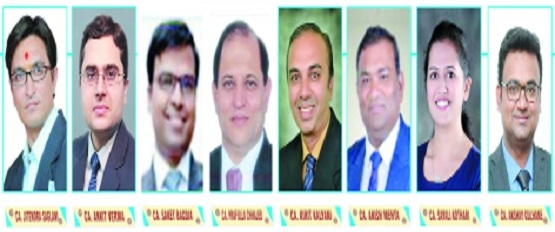 Business Bureau :
Expressing his views in the webinar on "Export of Professional Services – Connect Beyond Borders", organised by the Nagpur Branch of WIRC of ICAI recently, CA Prafulla Chhajed, Immediate Past President of ICAI, said that export of Chartered Accountant services needs effective connect beyond borders. He insisted on setting up required infrastructure to ensure adding clients abroad, for extending professional services. "Initiatives and arrangements made by the Institute of Chartered Accountants of India (ICAI) were shared with the concerned authorities to serve business entities located abroad," he said.
CA Anish Mehta, Chairman, Dubai Chapter of ICAI, CA Ankit Verma, Canada and CA Sayali Kothari, Pune and others took part in the webinar. CA Kirit Kalyani, Chairman, Nagpur Branch of ICAI, in his welcome remarks said that even though slowdown, setbacks, etc., are being witnessed in the financial arena in almost every country of the world, such things are bound to be over at the earliest possible time. To make members aware of the various appealing areas in the profession, Nagpur Branch has organised this webinar in the best manner possible, for serving the members, he remarked. CA Anish Mehta shared various professional opportunities available and effectively convinced the logic behind why UAE is considered as 'Land of Opportunities'. He guided the participants on various appealing opportunities. CA Ankit Verma guided the members watching the webinar live on You Tube with respect to expectations from Indian CAs' to effectively add Ontario, as well to their professional ambit.
He discussed various avenues that can be explored for spreading wings in the professional arena. These included use of artificial intelligence in fields of accounting, review and audit engagements, valuation services, forensic accounting, etc. He also said that as technology is changing, it is imperative to enhance the IT and data management skills to effectively excel in future. CA Sayali Kothari gave full justice to the topic 'International Banking & Beyond – Opportunities and Readiness'. Her rich experience of serving in the banking sector, while she was abroad, was shared very effectively to enable the members to have much needed direction and guidance to effectively plan for the said arena.
CA Akshay Gulhane effectively coordinated the webinar. Prominently present were CA Saket Bagdia, Vice Chairman, CA Jitendra Saglani, Secretary, CA Anil Chikodi, CA Aniruddha Shenwai, Chairman of various branches including CA Simran Lilwani from Pimpri Chinchwad, CA Jalaj Baheti from Akola, CA Vipul Patel from Amravati, CA Jitendra Thakker from Bhuj, CA Bhavessh Thakkar from Anand, CA Varsha Deshpande from Goa and CA Rohan Andhale from Nashik.