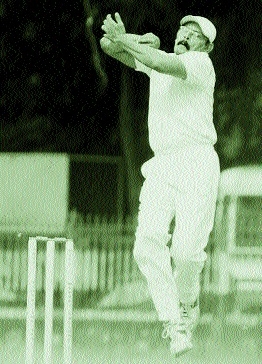 Rajasthan's Pradeep Sunderam is among five Indians who have picked all ten wickets in an innings in a First-Class match.
By Anupam Soni :
THERE have been just five instances of an Indian bowler picking all ten wickets in an innings of a First-Class match. One of those 'Perfect Ten' performances came against Vidarbha. In the three-day Ranji Trophy Central Zone League match played on matting wicket at Barkatullah Khan Stadium, Pal Road, Jodhpur in November 1985, Rajasthan seamer Pradeep Sunderam became just second bowler in the history of Ranji Trophy to pick all the ten wickets in an innings. Son of Gundibail Rama Sunderam, who played two Tests for India in 1955, right-arm pacer Pradeep used to open the attack for Rajasthan.
Sunderam's match figures of 16-154 (10-78 & 6-76) became the best figures in Ranji Trophy until India Test skipper Anil Kumble (16-99 vs Kerala) bettered it in 1995. In 2015, Madhya Pradesh bowler Jalaj Saxena (16-154 vs Railways) returned with an identical haul. The another interesting aspect of the match was its result. Vidarbha lost the match by zero wickets! Vidarbha fought the Sunderam onslaught and won the match. But when the umpires calculated the number of overs Vidarbha should have bowled in the scheduled time in fourth innings, they found the team short of the mark and awarded bonus runs to Rajasthan. Those runs helped them overhaul the target.
There was no cheating involved as that was the norm in those times. Incidentally, 20 bonus runs were added to the scores in all the four innings. For the hosts, skipper S Vyas won flip of the coin and asked Vidarbha to take first strike. Sunderam bowled unchanged 22 overs to gain an entry into one of the most elite clubs of cricket — picking all ten wickets in an innings. Before him only Premangsu Mohan Chatterjee had achieved that feat in a Ranji game. The left-arm medium bowler, playing for Bengal, took all ten wickets in Assam's first innings finishing with figures of 10 for 20 in Jorhat in January 1957. Sunderam wreaked havoc from the start and reduced Vidarbha to 6-8.
Only Prakash Sahasrabudhe, who top-scored with 45, offered some resistance. And with tail making some contribution — Hemant Wasu (10), A Wankhede (15) and Bharat Thakre (23), Vidarbha managed 140. Number three Madan Kaore remained unbeaten on 19. As many as five Vidarbha batsmen could not open their accounts. "It was again a poor wicket but full credit to Pradeep for the way he bowled unchanged from one end. He was a tall bowler who used to bowl on good length spot and had the ability to move the ball both ways from the same spot. He was not that pacy but was very accurate. Being tall with high-arm action helped him on that horrible matting wicket," said former Vidarbha skipper Suhas Phadkar while recalling that deadly and historical spell.
Rajasthan made good start and at one time were cruising along with just one wicket down for 59 runs. But Vidarbha bowlers led by Thakre (5-44) and well-assisted by Satish Takle (2-58) and Vikas Gawate (3-50) limited the side to 218 that included 39 extras and 20 bonus runs. "Vijay Telang, who led Vidarbha in that game, and Bharat Thakare, who returned with a five-wicket haul for Vidarbha in Rajasthan's first innings, are no more," Phadkar said. Vidarbha had another poor start and lost the openers early. Kaore (23) and Sunil Hedaoo (22) tried their best to stem the rot. Vikas Gawate's unbeaten 50 and Suhas Phadkar's 31 helped the team to 184. Sunderam ended the match with 16 wickets for 154 surpassing Subhash Gupte's 15 for 104 (the best First-Class match figures then) against the same opposition in the 1962-63 season.
Rajasthan needed 107 runs for an outright win. But Vidarbha bowlers rose to the challenge. Takle (4-39) and Gawate (4-30) shared the spoils with Thakre chipping in with a wicket. The hosts were all out for 95. Vidarbha players were congratulating each other. But the joy was short-lived. When the chart for bonus runs was prepared after the match, Vidarbha were found short of the over rate and were penalised. Bonus runs were calculated only after end of the innings.
It was that rare case when even after getting the better of the opposition, Vidarbha were declared losers when 20 runs were added to Rajasthan's fourth innings score. "In those days the players were not paid handsomely and hence there was no financial penalty (like today) for bowling lesser number of overs than required. The bowling team was penalised by giving bonus runs (four runs per over) to the batting side," statistician Dilip Singh Upring informed.
Match

:
Vidarbha vs Rajasthan 1985-86 Ranji Trophy Central Zone League match played at Barkatullah Khan Stadium, Pal Road, Jodhpur. (3-day match).
Result: Rajasthan won by zero wickets.
Highlights
Pradeep Sunderam held record for the best match figures (16-154) in Ranji Trophy then.
Other Indians to take all 10 wkts in an innings in a FC match are — Subhash Gupte (for Bombay vs Pakistan
Combined Services and Bahawalpur XI in 1954-55), Premangsu Chatterjee (for Bengal vs Assam in Ranji Trophy at Jorhat in January 1957), Anil Kumble (vs Pakistan in a Test at Feroze Shah Kotla in 1999) and Debashish Mohanty (for East Zone against South Zone in Duleep Trophy). — Dilip Singh Upring
The Hitavada Scoreboard
VIDARBHA 1ST INNINGS: P Hinganikar c&b Sunderam 1, V Telang lbw b Sunderam 0, M Kaore Not Out 19, S Hedaoo c Ratan Singh b Sunderam 0, S Takle b Sunderam 0, P Sahasrabudhe b Sunderam 45, S Phadkar b Sunderam 0, V Gawate c&b Sunderam 0, H Wasu b Sunderam 10, A Wankhede c Asawa b Sunderam 15, B Thakre c Vyas b Sunderam 23. Extras: (b 4, nb 3) 7. Bonus Runs: 20. TOTAL: (All out, 43 overs) 140. FoW: 1-1, 2-5, 3-5, 4-5, 5-8, 6-8, 7-69, 8-78, 9-86. Bowling: Sunderam 22-5-78-10, Yunus Ali 9-6-13-0, A Mudkavi 2-1-2-0, Ratan Singh 7-1-16-0, S Mudkavi 3-1-7-0. RAJASTHAN 1ST INNINGS: S Kaushik c&b Thakre 39, Parminder Singh c Hinganikar b Thakre 9, Padam Shastri b Thakre 11, S Mudkavi lbw b Thakre 19, A Asawa lbw b Gawate 39, S Jain c Hedaoo b Gawate 18, A Mudkavi c Hinganikar b Thakre 2, S Vyas lbw b Takle 7, P Sunderam c&b Takle 6, Ratan Singh Not Out 3, Yunus Ali c Telang b Gawate 6. Extras: (b 23, lb 1, nb 15) 39. Bonus Runs: 20. TOTAL: (All out, 53.1 overs) 218. FoW: 1-26, 2-59, 3-70, 4-109, 5-160, 6-163, 7-175, 8-189, 9-189. Bowling: Takle 17-3-58-2, Gawate 15.1-0-50-3, Thakre 15-1-44-5, Phadkar 2-1-9-0, Wankhede 4-0-13-0. VIDARBHA 2ND INNINGS: P Hinganikar c Kaushik b Sunderam 0, V Telang c Asawa b Sunderam 1, M Kaore c Kaushik b Parminder Singh 23, S Hedaoo c Ratan Singh b Sunderam 22, S Takle c Kaushik b Parminder Singh 4, P Sahasrabudhe b Sunderam 3, S Phadkar c A Mudkavi b Sunderam 31, V Gawate Not Out 50, H Wasu st Kaushik b Vyas 11, A Wankhede c Kaushik b Parminder Singh 1, B Thakre b Sunderam 4. Extras: (b 10, lb 2, nb 2) 14. Bonus Runs: 20. TOTAL: (All out, 45.4 overs) 184. FoW: 1-0, 2-1, 3-55, 4-59, 5-68, 6-124, 7-129, 8-134, 9-135. Bowling: Sunderam 22-4-76-6, Yunus Ali 5-1-8-0, A Mudkavi 1-0-5-0, Ratan Singh 1-0-7-0, Parminder Singh 15-1-56-3, Vyas 1.4-1-0-1. RAJASTHAN 2ND INNINGS (Target 107 runs): S Kaushik c Sahasrabudhe b Thakre 2, Parminder Singh lbw b Takle 0, Padam Shastri b Takle 5, S Mudkavi c sub b Gawate 9, A Asawa b Takle 1, S Jain lbw b Gawate 30, A Mudkavi b Gawate 1, S Vyas b Takle 0, P Sunderam b Gawate 2, Ratan Singh run out 19, Yunus Ali Not Out 8. Extras: (b 14, nb 4) 18. Bonus Runs: 20. (Target Achieved At 107). TOTAL (All out, 28.3 overs) 115. FoW: 1-2, 2-4, 3-14, 4-18, 5-21, 6-47, 7-49, 8-58, 9-62, 10-95. Bowling: Takle 12-1-39-4, Gawate 10.3-2-30-4, Thakre 6-2-12-1.
n