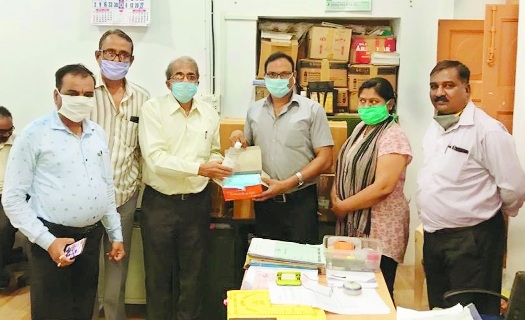 Dr P K Jain handing over the corona kits to PI Umesh Besradkar.
Business Bureau ;
Hero MotoCorp, the world number one two-wheeler company, is distributing safety kits to the corona warriors of various fields all across the country. In Nagpur also Hero MotoCorp handed over 5,000 surgical mask and 25 litres of sanitizers for the usage of the police force who are busy day and night to save people from the spread of corona virus. This noble cause was done under the guidance of Nagpur Police Commissioner Dr Bhusan Kumar Upadhyay; Senior Area Manager Sales Thyagrajan and Senior Area ServiceManager Hero MotoCorp Nagpur Nilesh Borade.
The kits were handed over by Dr Prakash K Jain of M/s Aditya Auto Agencies Nagpur to Umesh Besradkar P I Police Welfarein presence of Sarita Thorat, Nandu Sahastrakar and Rajesh Mishra. It is worth mentioning here that under the Corporate Social Responsibility (CSR), Hero MotoCorp is always contributing to various needs of the society. Earlier 20 numbers of Hero Xtreeme 200 R were donated to the Quick Response Team of Police and 25 Duet Scooters were donated to the Lady Police Bharosa Cell.
These vehicles proved to be a great help for the Police force. Dr Jain informed about the contribution of Hero family in the field of road safety to save precious life loss in road traffic accidents and assured that the Hero Company and their dealers will always extend a helping hand for the welfare of society at large.