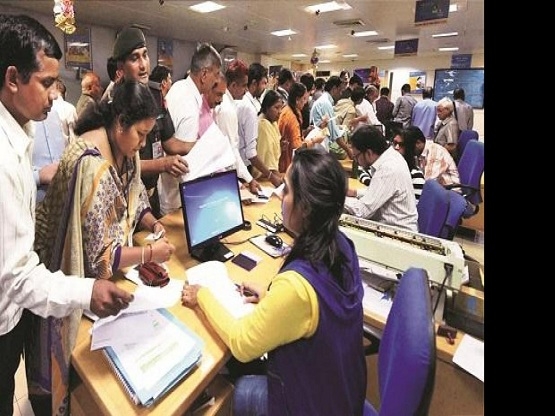 Business Bureau :
Highlighting the uninterrupted services of bank employees during the COVID-19 crisis, Vice President of the National Organization of Bank Workers - Ashwani Rana recently said that the staff members should also be treated COVID-19 warriors like other Government employees. "Bank employees are rendering their services and supporting the nation in a big way. They are successfully implementing schemes like Pradhan Mantri Jan Dhan Yojana (PMJDY) and other financial services for the people of the country and hence they deserve the status of COVID-19 warriors," he said.
"
The problems and issues of employees of the banking sector, which comes under service sector, should also be given due attention. Many bank employees are facing challenges due to the coronavirus pandemic. The number of coronavirus positive bank employees is increasing each passing day. However they are working for the people," Rana said. He said that till date more than 300 bank employees have been reported coronavirus positive and 30 employees have lost their life due to COVID-19. "Despite maintaining physical distancing norms while dealing with the bank customers, the employees are being getting infected. Government should allow the banks to bear the medical expenses of the coronavirus positive employees," Rana said.
"Bank employees must also be covered under the insurance cover of Rs 50 lakh. In case of death of the bank employee due to COVID-19, his or her family and the dependents should be given financial help," Rana demanded. It is important to note that the Indian Banks Association (IBA) has instructed all public sector banks to give paid leave to physically challenged employees, pregnant women employees, home quarantine employees and employees under isolation.
"
Despite clear instructions from the Indian Banks Association the local management is calling such employees for work. IBA should give warning to the banks and see that instructions are implemented strictly," he said. Suresh Choudhary, Central Working Committee Member of Voice of Banking and Media Chief Vidarbha Region of Bharatiya Mazdoor Sangh, added that during the lockdown many banks have released inter-state transfer orders of employees. "As per the COVID-19 protocol, only transfers within the city or state should be given while inter-state transfer orders be should cancelled," Choudhary said.