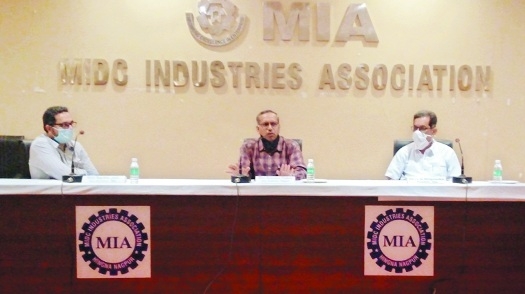 District Collector Ravindra Thakre (centre) interacting with MIA members. Sachin Jain and C G Shegaonkar are also seen.
Business Bureau ;
In order to remove the fear of rising coronavirus cases in industrial units of MIDC Hingna, District Collector Ravindra Thakre recently visited MIA House and addressed the executive committee (EC) members. In the meeting, Thakre urged all the EC members to propagate the message to all fellow industrialists not to get frightened and follow standard operating procedures (SOPs) to contain the spread of COVID-19. Thakre elaborated to the industrialists present in the meeting to strictly follow the SOPs like 1) Maintaining social distancing of 3-4 feet between individual workers while in operation as well as lunch and free time. 2) Make use of sanitizers every 2 hours. 3) Continuously use mask and try not touch mouth, nose and ear. 4) Keep machinery environment clean, sanitized and disinfected.
Thakre informed that as on June 19, total COVID-19 positive cases were at 81 in Hingna Taluka alone doubling at the rate of 9.5 days and requested everyone to be cautious. He insisted that even if someone is observed with cough and cold, immediately District / Tahsil administration should be informed and the individual be advised to take leave for 3 days. In the meantime his swab will be tested for coronavirus. If he is tested negative, he can join the work or else he will be admitted to COVID-19 hospital. He further made it clear that if corona positive cases is located in any factory, he along with his close contacts will be isolated and factories will be allowed work after maximum 3 days.
Thakre also touched upon the issue of migrated workers and requested industrialist to recruit local workers and increase their production capacity. He advised industry association -- MIA to submit a proposal for training and skilling of unskilled labour registered under Public Trust Act, Government of Maharashtra Registration No.63/83,F-3946 (N) dated 1.2.1983 JEM, Nagpur Regd. under Trade Union Act No. NGP-3820 along with Hingna ITI.
He assured to sanction on priority the funds required to develop the infrastructure for the training and skilling centre. Chandrashekhar Shegaonkar, President of MIA, Sachin Jain, Secretary of MIA, Suresh Rathi, President of VIA, Capt (Retd.) C M Randhir, Immediate Past President, MIA, Indira Choudhary, SDO, Nagpur Rural and others were present.