Freemasons of Nagpur to celebrate Universal Brotherhood Day with more charity on 24th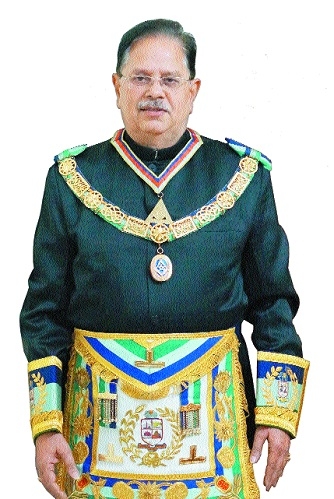 Rajeev Khandelwal, OSM,
Grand Master, GLI.
Staff Reporter :
'Secret' society donated material worth lakhs of rupees to COVID-19 hit people in Vidarbha
FREEMASONS of Nagpur will be celebrating Universal Brotherhood Day by undertaking different charity projects in the city on June 24. Grand Master Rajeev Khandelwal, OSM, of Grand Lodge of Ancient, Free and Accepted Masons of India (GLI), who heads Freemasonry in India, has appealed to all lodges across the country to undertake only charitable activities on Universal Brotherhood Day instead of organising programmes, seminars or divine service due to COVID-19 pandemic and restriction of assembly. Accordingly, the Masonic fraternity in the Second Capital will donate certain equipment for COVID-19 patients to Government Medical College & Hospital (GMC&H) including PPE kits for the frontline warriors on Wednesday.
Freemasons will also donate blood and plant saplings in the premises of Laxminarayan Institute of Technology (LIT), University Campus. Many people do not know what is Freemasonry. Some critics say that Freemasonry is a secret society. But, Freemasons say that it's a myth. They term the organisation as a society with 'secrets.' Famous author Dan Brown, who was initially a critic, later wrote "I cannot adequately express the deep respect I feel towards an organisation called Freemasonry, where men of different faiths, are able to break bread in a bond of brotherhood, friendship and camaraderie, though they are not born as blood brethren, they are brethren by choice."
Freemasonry is one of the largest and oldest organisations. It traces its lineage to 1012 BC when King Solomon commenced to build the splendid Temple of God in Jerusalem. Its origins are lost in the unrecorded history of medieval times, but it formally organised in England in 1717. As a fraternal organisation, Freemasonry unites men of good character who, though of different religious, ethnic or social backgrounds, share a belief in the fatherhood of God and the brotherhood of mankind. Grand Master Khandelwal says, "Freemasonry is an individual journey towards becoming a better father, husband, friend, citizen and man, supported by other men at different points on the same journey." Each single local unit of Freemasonry is called as Masonic Lodge, he adds.
"Freemasons live by the principles of brotherly love, relief and truth. Brotherly love is caring for each other and our communities; relief is to humbly assist those in distress and truth meaning use of knowledge and understanding to improve ourselves, our families and our communities. In simple words, Freemasonry makes good men better," says Khandelwal.
Charity by Freemasons of Nagpur during lockdown MEMBERS of the centuries-old fraternal organsation from different lodges under the Grand Lodge of Ancient, Free and Accepted Masons of India (GLI) contributed lakhs of rupees from among themselves and extended a helping hand to COVID-19 affected people across Vidarbha.
Throughout lockdown, Lodge St Andrews No 6, Lodge Sundar Raza No 133, Lodge Bhogilal Shah No 147, Lodge Trimurty No 294, Lodge Matheran No 135, Lodge Golden Orange No 304, Lodge Vivekanand No 367, Lodge Vidarbha No 470, HRA Chapter Trinity No 77, HRA Chapter Vidarbha No 167, Nagpur, Vidarbha MMM Lodge No.145, and Vidarbha RAM Lodge No.145 contributed to PM-CARES Fund, and donated hand sanitisers, disinfectants, ration kits, foodgrains, food packets, tea, snacks, biscuits, footwear, masks, sewing machines, plates, glasses, toothbrushes, combs, toothpaste, soaps, washing powder and other material to poor and migrant workers at different shelter homes across Vidarbha. Freemasons also donated PPE kits to Indira Gandhi Government Medical College (IGGMC) for COVID-19 warriors.
Some of the lodges distributed foodgrains to Sewa Kitchen and other organisations for providing meals to the poor and needy migrants on daily basis. Freemasons also donated sanitisers and disinfectant to the Railways. Officers of Grand Lodge of India, Regional Grand Lodge of Western India, and Worshipful Masters of different lodges including Prathamesh Deshpande, Rajkumar Moitra, Daryl Nazareth, Col Vipin Vaidya, J K Shah, P R A Naidu, Dr B K Sud, Vinay Zade, Anuj Hamilton, Ajay Waikar, Vinayak Kewadkar, Adv Dinkar Kukday, Mangesh Shastri, Asif Chimthanawala, and others worked hard to provide relief to the needy during lockdown.