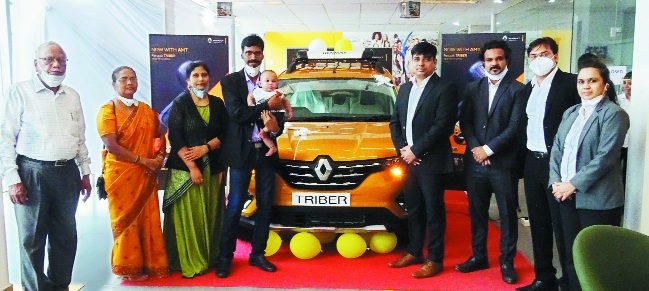 Business Bureau ;
Renault Nagpur - Unnati Vehicles recently launched the new AMT version of Renault Triber with great ecxcitment. Renault, the number one European brand in India, opened bookings for the TRIBER EASY-R AMT. Renault TRIBER EASY-R AMT will be available in three trims - RXL, RXT and RXZ at a price difference of Rs 40,000 above the respective manual versions, with a starting price of Rs 6.18 lakhs. TRIBER EASY-R AMT has been specifically designed for the Indian market and will offer an unmatched value proposition to customers looking at a B-segment car.
It offers great balance between performance and fuel economy, with low total cost of maintenance along with comfortable space for one to seven adults in less than 4 meters. The Renault TRIBER EASY-R AMT can be booked online at https://renault.co.in, on the My Renault App or at a Renault authorized dealerships of Unnati Vehicles Pvt Ltd.
The company has started the bookings and deliveries of the vehicle. The live virtual launch was organised on social media at Unnati Vehicles-Renault Nagpur, Wardhman Nagar showroom in presence of 1st Renault Triber AMT owner Nandanwar alongwith the Team of Renault Nagpur and Wadi. The ceremony was hosted by General Manager Sujay Pardhi accompanied by Rohit Naidu, Sales Head, Renault Nagpur, Roshan Nagpure-Sales Head, Renault Wadi, Mrunal Kathole-CRM, Unnati Vehicles Pvt. Ltd. For details contact Renault Nagpur, Wardhmana Nagar. (M: 7290021019), Renault Wadi, MIDC Hingna Area. Nagpur. (M: 7290032979).