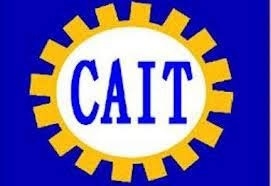 Business Bureau :
THE Confederation of All India Traders (CAIT) which is spearheading the nation-wide movement against Chinese products under its campaign "Bhartiya Saamaan - Hamara Abhiman" has expressed satisfaction over the Union Government's move to introduce the concept of "Country of Origin" on GeM portal. CAIT has been demanding the same for e-commerce companies for quite some time. CAIT National President B C Bhartia and Secretary General Praveen Khandelwal while complimenting the Union Government for taking such a timely step to promote 'Make in India'and'AtamnirbharBharat'call of Prime Minister Narendra Modi, saidthatsuchprovisionshouldalso be applicable on all e- commerce portals operating in the country.
"The move is a perfect reflection of "Charity begins at Home" and the Ministry of Commerce should immediately issue a notification tomakeitmandatoryforalle-commerce portals operating in India," CAIT said. The CAIT raised this demand on June 15 in the wake of the fact that mostly all e-commerce companies are selling Chinese goods in large numbers on their portals and in absence of 'Country of Origin' provision, the customers are unaware about the origin of the country which certainly influences the choice of the consumers. Bhartia and Khandelwal said that another important step which the Government has taken to enable a provision for indication of the percentage of local content in products.
The Government has also enabled 'Make in India' filter on gem portal which will facilitate the buyers to choose or buy only those products that meet the minimum 50 per cent local content criteria. Bhartia and Khandelwal also said that it is time for the e-commerce portals to include this provision in their respective portals to let the customers know as to which country's product they are buying. They further said that since other e-commerce portals are working under the Business to Consumers (B2C) concept, this provision is more required in such e-commerce portals so that the consumers are not deceived. In this context, the CAIT will once again knock the doors of the Commerce Minister and will urge him that after the Government's own marketplace portal now it is the turn of other e-commerce players and the Ministry should immediately issue the notification.