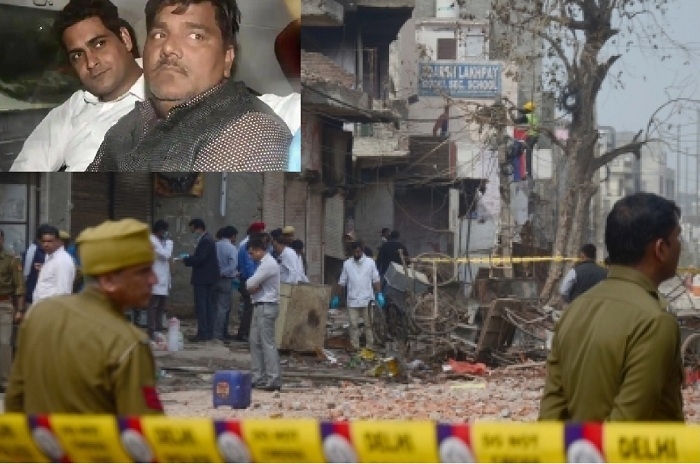 NEW DELHI,
ALMOST 20 days after Delhi Police named suspended AAP councillor Tahir Hussain in the Delhi riots case, the Enforcement Directorate on Tuesday carried out searches at six locations in connection with its probe in a money laundering case against him. An ED source told IANS, "Multiple teams of the agency are carrying out searches at six locations in the National Capital Region (NCR) related to Hussain." The source said that the financial probe agency teams are carrying out searches at four locations in north east Delhi and two locations in Noida.
The ED action comes almost three weeks after it registered a case of money laundering against Hussain, who is currently in judicial custody. The ED had registered a case against Hussain and the PFI for money laundering and funding of riots in Delhi. A senior ED official wishing not to be named told IANS, "We have filed a case of money laundering against Hussain and PFI." The official said that Hussain and PFI have been booked under the Prevention of Money Laundering Act (PMLA).
The PFI is already facing a case from the central financial probe agency for their alleged role in the funding of the anti-CAA protests across the country. The ED has taken cognisance of number of FIRs filed by Delhi Police Crime Branch to probe the alleged money laundering and routing of illegal funds by Hussain, PFI and others to purportedly sponsor the communal riots that killed over 52 people in the last week of February in northeast Delhi. The ED is probing the funding and source of income which Hussain allegedly received for 'inciting' violence in Delhi. After Delhi violence, role of Hussain was found dubious as from his house the police recovered several petrol bombs as well as the acid pouches. His house in Khajuri Khas area of northeast Delhi was also used for stone-pelting and hurling petrol bombs during violence. On June 2, the Delhi Police filed two chargesheets in this connection.
HC grants time to school owner to file reply on plea by police
NEW DELHI,
June 23 (PTI)
THE Delhi High Court on Tuesday granted time to the owner of a private school to file a reply on a plea by the city police challenging bail granted to him in a case related to communal violence in North-East Delhi during protests against the CAA in February. Faisal Farooq, owner of the Rajdhani School in Shiv Vihar locality was among the 18 arrested, for alleged involvement in burning and damaging property of the adjacent DRP Convent School.
Justice Suresh Kait, who conducted the hearing said the response be filed within four days and listed the matter for further hearing on July 1. The court on Monday had put a stay on the trial court's bail order, saying "till further order, if the respondent/accused (Farooq), pursuant to order dated June 20 (of trial court) is still in custody, he shall not be released."