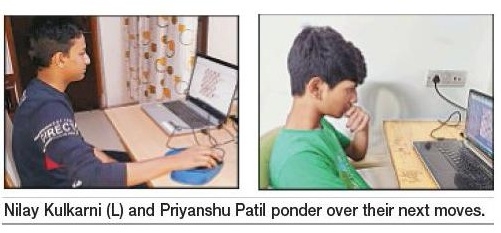 Sports Reporter :
PRIYANSHU Patil emerged winner of the fifth edition of Online Blitz Chess Tournament, the other day. The weekly competition was organised by Nagpur District Chess Association through the platform of 'lichess.org'. In one of the most exciting competitions, Patil claimed the top spot by the virtue of better progressive score. With none of the previous winners participating in the competition, a new winner was expected. Patil, along with Nilay Kulkarni, Arush Chitare and Aryan Deogade ended the competition with seven points each. On the basis of better progressive point, Patil beat Kulkarni by just half a point (38.5 to 38) to win the title after finishing second best in the fourth edition.
The third place was claimed by Arush Chitare. Kulkarni would have won it clearly had he not lost his last round match. In the fourth edition, AGM R Shiva Subramanian had piped 17-year-old Patil to win the title. Total 32 players took part in the tournament. In all nine rounds were played. The time control for all players was of five minutes each to finish the game. The tournament was conducted under the supervision of IA Swapnil Bansod, IA Pravin Pantawane and FA Umesh Panbude.
Spandan Seth clinched the inaugural title while Ansh Dhanvij emerged champion of the next two editions. His victory march was halted by R Shiva Subramanian who won the fourth edition. TOPTEN:Priyanshu Patil, Nilay Kulkarni, Arush Chitre, Aryan Deogade, Kaustav Barat, Sushant Jumde, Sumedh Ramteke, Aditya Bodkhe, Krishna Taori, Javed Sheikh.