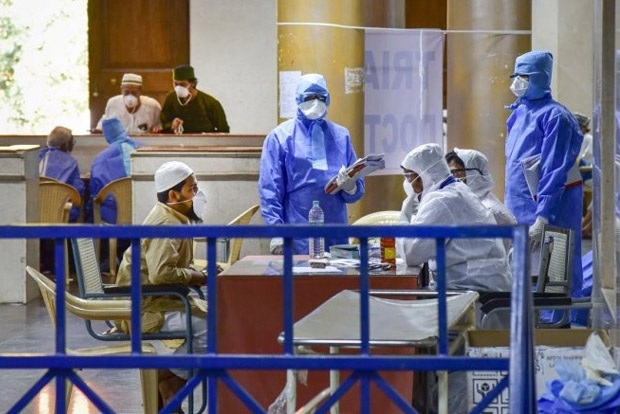 NEW DELHI ;
INDIA registered its worst single-day increase in COVID-19 cases on Thursday, recording close to 17,000 coronavirus infections, to push the overall tally to 4.73 lakh as the number of fatalities inched closer to 15,000, according to the Union Health Ministry data. The data updated at 8 am showed the daily COVID-19 cases increased by the highest-ever number of 16,922 cases to reach 4,73,105, while the death-toll climbed to 14,894 with 418 new fatalities.
This was the sixth consecutive day when coronavirus cases increased by more than 14,000. However, the recovery rate has improved to 57.43 per cent, according to the Health Ministry. The number of active cases stands at 1,86,514 while 2,71,696 people have recovered and one patient has migrated. A total of 13,012 COVID-19 patients were declared cured in a single day on Thursday. The total number of 4,73,105 confirmed cases included foreigners. According to ICMR, a total of 75,60,782 samples have been tested up to June 24 with 2,07,871 samples being tested on Wednesday.
On June 20, the country registered an increase of 14,516 cases. On June 21, the increase was of 15,413 cases; 14,821 cases on June 22; 14,933 cases on June 23; and 15,968 cases on June 24. Consequently, India has added 92,573 cases since June 20, and over 2.82 lakh this month since June 1. Of the 418 new deaths, 208 were in Maharashtra, 64 in Delhi, 33 in Tamil Nadu, 25 in Gujarat, 14 in Karnataka, 11 in West Bengal, 10 each in Rajasthan and Haryana, nine in Madhya Pradesh, eight each in Uttar Pradesh and Punjab, five each in Andhra Pradesh, Telangana and Uttarakhand. Bihar, Goa and Jammu and Kashmir have reported one COVID-19 fatality each. Of the total fatalities, Maharashtra tops the tally with 6,739 deaths followed by Delhi (2,365), Gujarat (1,735), Tamil Nadu (866), Uttar Pradesh (596), West Bengal (591), Madhya Pradesh (534), Rajasthan (375) and Telangana (225).