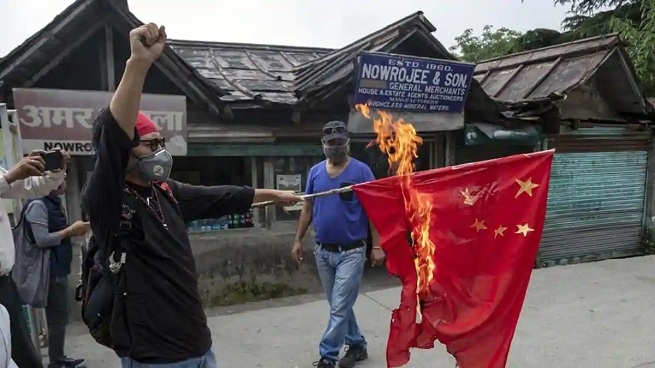 NEW DELHI ;
The economic cost of China's misadventure in the last couple of months will be "massive" as it has "exposed" Beijing's "real face" when the entire world is fighting coronavirus, said the experts
CHINA will have to pay a "heavy price" for decades for resorting to aggressive military behaviour towards India in eastern Ladakh as it will isolate the country globally, strategic affairs experts said on Saturday. They said the economic cost of China's misadventure in the last couple of months in eastern Ladakh and South China will be "massive" as it has "exposed" Beijing's "real face" when the entire world is fighting coronavirus. The experts have also referred to China's tariff war with the US, growing bickering with Australia on trade-related issues and the fast deteriorating situation in Hong Kong.
"China has made a huge mistake by resorting to aggressive military behaviour in eastern Ladakh. By triggering the standoff when the world is figting the coronavirus pandemic, China has exposed itself globally," former Deputy Chief of Army Staff Lt Gen Gurmit Singh said. "The cost for China will be huge. It will be heavy. It will keep paying the cost for several decades for killing Indian soldiers in Galwan valley on June 15. China has lost its goodwill in India and elsewhere," he added.
Referring to brutal attacks on Indian soldiers in the Galwan Valley, he said the action has reinforced the view that China's People's Liberation Army (PLA) is "just a political" force and that it does not conform to military standards.
Former Deputy Chief of Army Staff Lt Gen Subrata Saha too said China is getting itself isolated by its unacceptable military aggression and the country will have to pay a heavy diplomatic and economic price for it. "China is isolating itself by its aggressive conduct both militarily and diplomatically. So there will be a price for it. It is putting itself into a corner," he said. Lt Gen Saha said there will a significant economic price that China will have to pay for its "misadventure".