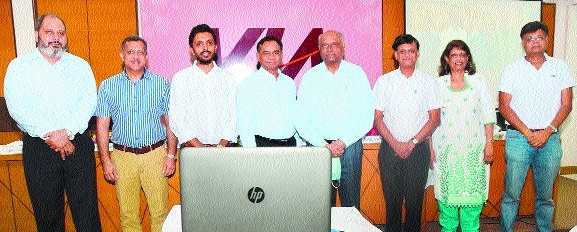 The newly-elected office-bearers of VIA.
Business Bureau :
TALKING to a section of mediapersons after his re-election to the post of President of Vidarbha Industry Association (VIA) Suresh Rathi said, "The world has changed for ever and for all of us and adaptation is the key. The old saying 'survival of the fittest' can now be said as survival of the quickest. COVID-19 has not only shaken VIA but the whole world. Due to temporary closing down of our units, making various Government dues and other payments were difficult. We at VIA left no stone unturned to see that industries of our region swing into operations as soon as possible."
He informed that industries in Vidarbha were at present working at 70 per cent capacity and by July 15 and they will start working to their full strength, that is, 100 per cent capacity. He added that currently providing financial aid to the members and the problem of getting manpower both skilled and unskilled were the biggest challenges in front of all industries. "With the help of Ravindra Thakre, District Collector, efforts are being made to get manpower through the 'Mahaswayam' portal. We are trying to get list of migrated workers who wish to return and join work." Rathi also informed that a few efforts with the education institutes will also be taken up to alter courses according to the requirement of industry. "We are planning to gear up all VIA Forums and work out specific plans in each areas that can generate support on all the required domains," he said.
Rathi also informed that our thrust area is increasing the 'Ease of doing business'. "VIA is continuously having interaction at all levels with the Government to see Maharashtra gets to No 1 position in 'ease of doing business' from present 13th position. VIA is suggesting business reforms and action plans from time to time. It is only the 'ease of doing business' that can attract local and foreign investments and make our country and Maharashtra self-reliant on all fronts," he said.
Rathi also suggested that MSMEs should be given a single window clearance system and allowed to be free from inspections and approvals as much as possible. Welcoming the new definition of MSME announced by the Government, VIA had formed a separate MSME Forum having a core committee led by Chairman who will hold regular interactions at various platforms with an objective to generate support system.
Suresh Rathi unanimously re-elected as President, Gaurav Sarda as Secretary of VIA VIDARBHA Industries Association (VIA) organised its 56th Annual General Meeting (AGM) on Saturday at VIA Auditorium. In the meeting, the new body of VIA was elected. The members unanimously re-elected Suresh Rathi as President of VIA. R B Goenka, Aditya Saraf and Dr Suhas Buddhe were elected as vice-presidents, CA Naresh Jakhotia, Treasurer, Gaurav Sarda, Secretary and Anita Rao and Ashish Doshi both were elected as joint secretaries.
The newly-elected executive committee members are Hargovind Bajaj, Patron Member, Prafull Doshi, Suresh Agrawal, Rohit Bajaj, Varun Bajaj, Pravin Tapadia, Prashant Kumar Mohota, Satyanarayan Nuwal, Girish Deodhar, Vishal Agrawal, Pankaj Bakshi, Pankaj Sarda, Akash Agrawal, Anil Parakh, Rohit Agrawal, Rakesh Surana, Ashit Sinha, Hemant Lodha, O S Bagadia, Girdhari Mantri, Kirit Joshi and Pratik Tapadia. Atul Pande, Immediate Past President was present.