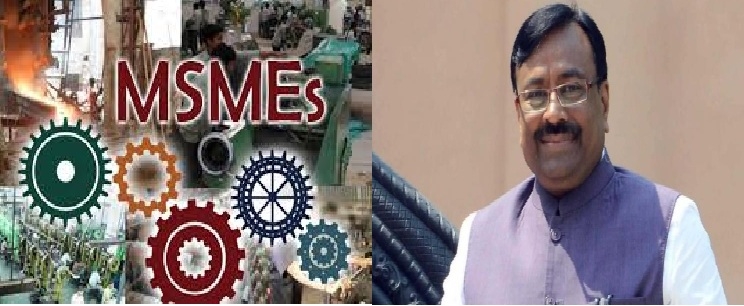 Business Bureau :
Former Maharashtra Finance Minister Sudhir Mungantiwar said that Prime Minister Narendra Modi has given the slogan of a self-reliant India and the country can become self-reliant in Micro, Small & Medium Enterprises (MSMEs). He also said that the entrepreneurs in small and medium industries should work together to make Marathwada and Vidarbha prosperous.
He was expressing his views at the 'Virtual Entrepreneur Dialogue' organised on Sunday by the Maharashtra branch of the BJP Udyog Aghadi to mark the first anniversary of the BJP Government 2.0 at the Centre led by Prime Minister Narendra Modi. State President of the Aghadi Pradip Peshkar; State General Secretary and former Labour Minister Sambhajirao Patil Nilangekar, Kiran Paturkar (Amravati) and local convener CA Milind Kanade participated in the virtual discussion. In the past, the Indian economy was operating on a cluster approach, which led to prosperity in various sectors said Mungantiwar adding that when an industry is starts, prosperity comes to the country and the State.
"Entrepreneurs in Vidarbha and Marathwada have potential. We use a lot of foreign goods throughout the day. All these products can be produced locally. For this, research and development process should be implemented and the goods should be produced in our country using the funds and concessions given by the Centre Government. This will save foreign exchange," he observed. Mungantiwar also appealed to the entrepreneurs in Vidarbha and Marathwada to be at the forefront in the MSME sector and work towards making Vidarbha and Marathwada pioneer in this field. Entrepreneurs from various fields participated in this online interaction. They shared their problems and difficulties with Mungantiwar.
He said that the business front should prepare a statement on all the issues which will be given to Union Minister of State for Finance Anurag Thakur. The online chat was introduced by Pradip Peshkar while Sambhajirao Patil Nilangekar also expressed his views in the programme. Milind Kanade welcomed the dignitaries and conducted the proceedings. Keshav Partkar proposed the vote of thanks.