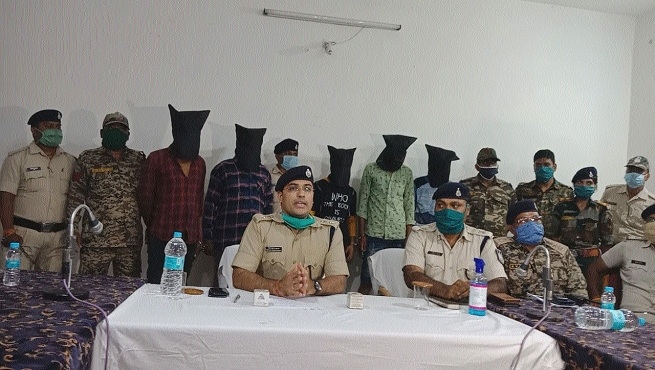 SP Deepak Kumar Shukla, accompanied by police team, addressing a press conference.
Staff Reporter ;
Mandla police solved the mystery behind the shootout of a youth and arrested five accused and seized a country-made pistol, a Bolero jeep and a motorcycle used by the accused during the incident. The arrested have been identified as Happy alias Mayur Yadav (32), son of Ganesh Yadav, a resident of Swami Sitaram Ward, Mandla, Ayush Yadav, son of Motilal Yadav, resident of Bihaiki Tiraha in Mandla, Ravi Yadav (24), resident of village Sijhaura in Bichhiya, Mandla, Piyush Maravi (21), son of Harishchandra Maravi, resident of Lal Bahadur Shastri Ward, Mandla and Vipin Markam (21), son of Kamla Prasad Markam of Ekta Colony, Mandla. Superintendent of Police, Mandla, Deepak Kumar Shukla disclosed this while addressing a press conference. He informed that the youth, Sahil Parochiya was killed over an arguement with accused Happy Yadav some days back at Jaiswal Dhaba. Sahil has thrashed Happy over some issue.
Thereafter, Happy decided to take revenge from Sahil and planned to kill him with the help of his friends. Accused received information that Sahil along with his friends went for celebrating his birthday at Matru Dhaba in Maharajpur and they decided to kill him then.
Taking a serious note into the case, separate police teams started a rigorous search and trapped the accused Happy Yadav and Piyush Maravi were searching a rented house in Raipur (Chhattisgarh). On their identification police have succeeded in apprehending three more accused and seized a country-made pistol, bolero jeep and motorcycle used during the incident.