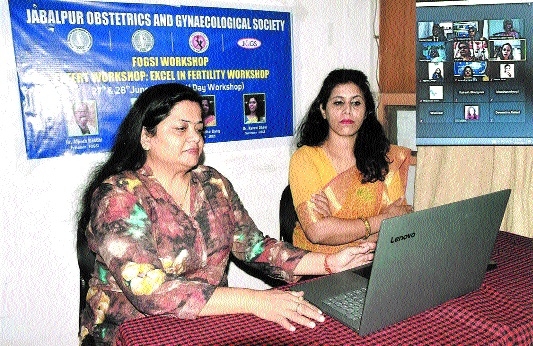 JOGS President Dr Anuradha Dang interacting with the doctors
during national workshop.
Staff Repoorter :
JABALPUR Obstetrics and Gynaecology Society (JOGS) had organised a two-day national workshop on 'Infertility' to discuss about different aspects concerned with problems, causes and treatment of infertility. Becoming a mother is a gift from God but sometimes certain problems among couples keep them deprived of enjoying parenthood.
Today science has developed beyond. IVF stimulation protocols IUI, Embryo transplant everything has been advanced and has reached to common man. In view of this FOGSI has a vision for expert in each and every corner of India to get expertise in field of infertility treatment. The expert workshop in infertility was organised under the direction of JOGS President Dr Anuradha Dang in collaboration with infertility committee FOGSI. The programme was conducted by Dr Kaveri Shaw Secretary of JOGS, Chairperson Dr Dipankar Banerjee, Dr Archana Srivastava and FOGSI Infertility Committee Chairperson Dr Kundan Ingale shared guidelines on stimulation protocols for infertility enhancement. Dr Anu Chawla from UK discussed about treatment plan and family planning in PCOS ladies.
Dr Monica Singh from Bhopal, spoke briefly about the treatment in women with low fertility chances. On the second day, resource person Dr Reema Sirkar discussed about progesterone treatment in infertility. The panel of infertility specialist from Jabalpur comprised of Dr Rakhi Bajpai, Dr Deepti Gupta, Dr Jigyasa Dhingra and Dr Shubhali Sharma answered the questions by Dr Apoorva Pallam Reddy from Bangalore. The programme was accredited by Indian College of Obstetrician and Gynaecologist, Chairperson Dr Mandakini Megh and Dr Parag Biniwale. Academic value of the programme is beneficial for participants.