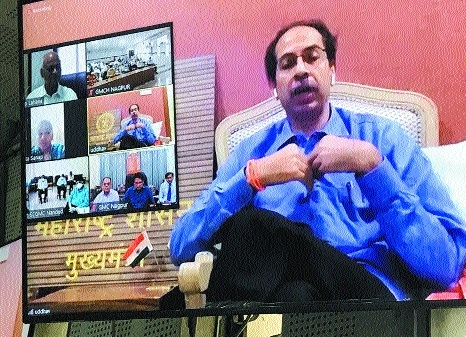 Dr Sajal Mitra, Dr M Faisal, Dr Sushant Meshram at GMCH during launching the plasma trial project on-line interacting with Chief Minister Uddhav Thackeray and Dr T P Lahane.
Principal Correspondent :
Project PLATINA, the World's largest convalescent plasma therapy trial-cum-project in treatment of severe Covid-19 patients, was on Monday launched by Medical Education and Drugs Department. With the launching of this ambitious project, Nagpur became the first such centre in the world for conducting big number of trials at Government Medical College and Hospital (GMCH). Medical Education Minister Amit Deshmukh has made a mention of the same during his speech while admiring the effort.
Chief Minister Uddhav Balasaheb Thackeray inaugurated the project, in the presence of Amit Vilasrao Deshmukh, Minister of Medical Education and Cultural Affairs; Rajesh Tope, Minister of Public Health and Family Welfare; Rajendra Patil Yedravkar, Minister of State for Public Health, Medical Education and Drugs and Cultural Affairs, the Guardian Ministers of several districts, Secretary Medical Education, Drugs and Cultural Affairs, Dr Sanjay Mukherjee, Padmashri Dr T P Lahane, Director of Medical Education. This is a huge project cum research trial and has all the necessary approvals. Chief Minister has allocated Rs 16.85 cr for this project through CM Cares Fund. The whole process of planning, getting clearances and completing dedicated COVID19 plasma banks has been done in 21 days.
The project is led by Dr Sanjay Mukherjee, who is also the Sponsor of the Project, along with Director Dr T P Lahane, DMER. Dr Sajal Mitra, Dean, GMCH is the head of the implementation team, ably assisted by Dr Sushant Meshram, Principal Investigator and Dr M Faisal Project in-charge and state Nodal Officer. Deans of all GMCs, Heads of Hematology Department and doctors of various medical colleges are actively involved in making it a success.
Convalescent Plasma therapy is now coming up as one of the most important methods in the treatment of severe Covid 19 patients in the absence of definite treatment drugs for the same. It will be worlds largest trial cum treatment project in the world , wherein patients intend to benefit and save around 500 lives of critically ill Covid 19 patients of Maharashtra. The entire plasma therapy treatment will be free of cost to all the patients of Maharashtra admitted in the above centers. The Donors are available in large numbers and have no weakness whatsoever after plasma donation as RBC are returned back to the patient. The PLATINA trial will be world's largest trial and hence will give robust data regarding role of convalescent plasma in treatment of Covid 19 patients.
This trial will help formulate definite treatment guidelines for the entire country in managing serious Covid patients and thus be a milestone in turning a page in the Covid pandemic. The authorities have planned to take this study further and isolate monoclonal antibodies against Covid from this plasma and study its structure and possibly produce it in an artificial form. As a collateral benefit , this will create an infrastructure of plasmapheresis in all medical colleges in various districts of Maharashtra which will cater to collection of FFP, SDP in treatment of dengue, etc and also in GBS, snake bites etc.
Today, the following were inaugurated
l Commencement of the Clinical Trials
l Inauguration of COVID19 Plasma Banks in 13 centers.
l Commencement of Plasma Collection from eligible donors
l Permitting Emergency Authorization of Convalescent Plasma in Mild and moderate cases in dedicated COVID Hospitals, Government, Private and Charitable.
l Dr T P Lahane welcomed Chief Minister and all other dignitaries. Dr Sanjay Mukherjee gave all details. Rajendra Patil (Yadrwakar) welcome the initiative.
l Rajesh Tope complimented the people behind the trial. Dr Sajal Mitra proposed a vote of thanks.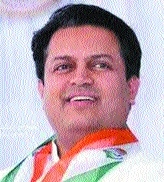 Amit Deshmukh appeals people to donate plasma Thanking Chief Minister for supporting the project, Minister for Medical Education and Cultural affairs Amit Deshmukh appreciated the gesture of one corona warrior who himself suffered from Covid-19 has recovered and is now donating plasma for someone else. Deshmukh appealed every recovered Covid-19 to take a clue from this corona warrior come forward and donate plasma in large numbers.